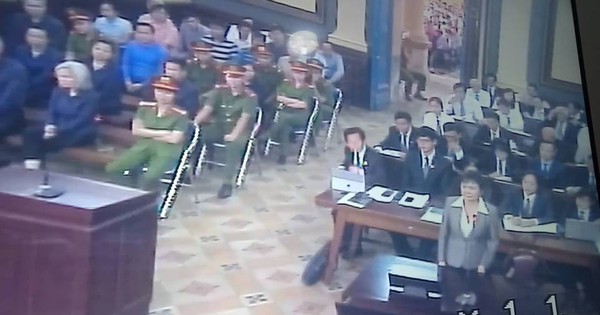 In the morning of November 27, the HCMC People's Court officially launched the first instance "Abuse of powers to proper property", "Actively acted contrary to State regulations on the economic consequences of the economic consequences, "" Lack of responsibility causing serious consequences ", which occurred in DongA Bank (DongABank-DAB), the trial is expected to end on 25/12/2018.
After calling more than 300 individuals, held in the trial
The test consisted of 26 defendants, including Tran Phuong Binh (59 years old, former CEO of DAB, Phan Van Anh Vu (42, Vu, Aluminum), Bac Nam Construction Chair JSC 79), Nguyen Thi Kim Xuyen ( 60 years old, DAB Deputy Director General), Nguyen Thi Ngoc Van (former Deputy Director General, Vice Chair of the DAB Credit Committee), Pham Van Phuoc Do Thanh Hung (former Head of DAB Head Office), Nguyen Thi Kim Loan (Former Head of Head DAB), Nguyen Thi Ai Lan Head of DAB Asset Management), Nguyen Duc Tai (former director of the DAB Trading Center) and 16 other signatories from the DAB discussion office and DAB Dinh Tien Hoang branch.
The panel consisted of 5 people: Pham Luong Toan presided over the trial, Judge Nguyen Van Ha and jurors 3 people. At the same time, there were two other critics, Tran Minh Chau, Doan Thi Huong Giang.
Representatives from the Ho Chi Minh City People's Committee attended the trial given by the Supreme Supreme People, namely: Pham Van Dung, Nguyen Quynh Lan, Le Thi Dong. Dong A Bank will take part in the civil litigation.
In addition, the Trial Panel also held 333 individuals and organizations to attend the trial as the person with related rights and liabilities, the witness. Among them are representatives from Bank State of Vietnam (SBV), Dong A Securities Investment Investment Management Company (DAC), Phu Nhuan Jewelry Stock Joint Company (PNJ), North Construction Joint Stock Company Nam 79 Joint Stock Company Dieta Fund Management Viet, Ms. Cao Thi Ngoc Dung (Chairman of PNJ Company, wife of the defendant Tran Phuong Binh).
In this morning session, the Panel will conduct an examination of the accused backgrounds and examine the persons with related interests and liabilities as well as the witnesses called by the court.
How do you lose thousands of millions of millions in DAB?
According to the supposition of the Supreme Supreme People, in the role of the Chief Executive, deputy Chairman of the DAB, defendant, Tran Phuong Binh, said other defendants to commit misusing offenses. more than VND 2,057 billion, intentionally taking forward State regulations on economic control, causing damage of more than 1,551 billion, causing damage to DAB more than 3,608 billion. From 2007 to 2014, Tran Phuong Binh Nguyen Thi Kim Xuyen and staff reported 9 offenses null from the name of Tran Phuong Binh and relatives to buy shares of DAB himself.
In order to make the amount of money lost, the Steering Committee released the gold sale fund, produced a loan record to close the payment to buy shares. Tran Phuong Binh has allocated a DAB of VND1,160 billion to buy 74,279,236 DAB shares. Accordingly, Tran Phuong Binh and Nguyen Thi Kim Xuyen are misusing the DAB situation and authority over VND1,160 billion by buying more than 74 million shares from DAB from 2007-2014.
Source link