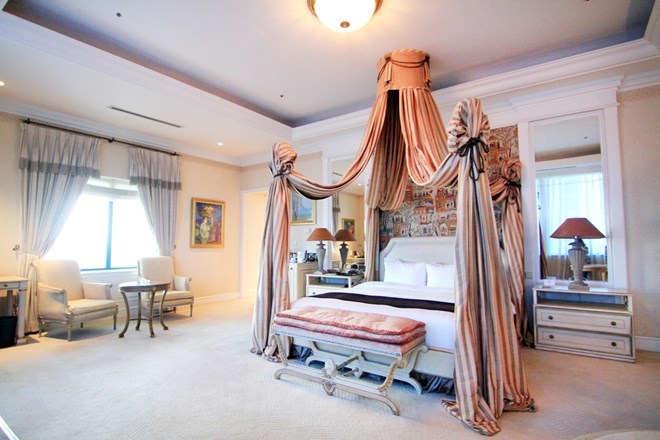 There were 4 USA Presidents including Donald Trump to Hanoi and 4 different hotels to give her up.
President of Donal Trump
During his official visit to Vietnam in November 2017, President Donald Trump stayed at the Metropole Hotel (Ngo Quyen, Hoan Kiem).
The hotel with a typical French architecture is more than 100 years old, located in the center of Hanoi. Presidential Room – Grand Prestige Suite – the hotel's most luxurious and expensive hotel costs around 4,500 USD (which equates to 100 million VND / night).
Built in 1901, Metropole is a symbol of architecture, an important part of Hanoi's main interests.
Metropole's presidential room is always the expensive room among the presidential rooms of Hanoi's hotel, because it also includes a brand, tradition and old hotel history.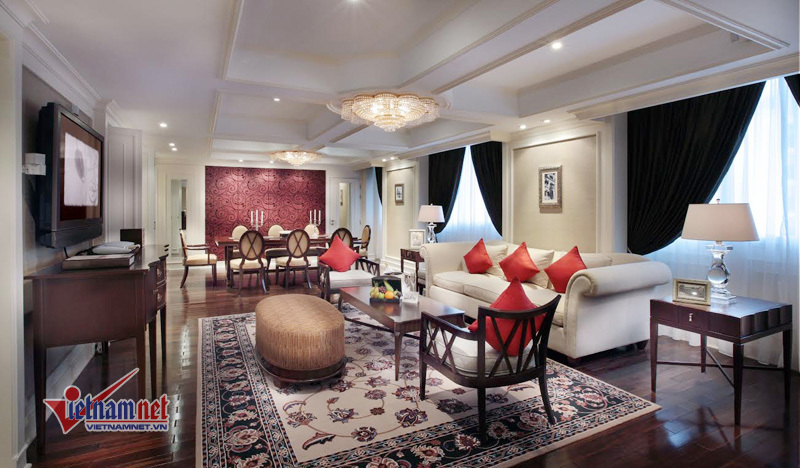 Living room
Luxurious space is arranged with an area of ​​almost 200m2 with lighting from either side. Access to the Bose digital audio system, large flat screen TV, comfortable living room, library and work area, a large bedroom, guardian room with the Royal Grand Room have been completely furnished.
This room also has a private spa, a 8-person dining room, a romantic bathroom with a French stand and a sauna, a bar area serving at night and is available 24 hours a day.
After receiving this section many heads of state such as the First Minister of Germany, Italian, New Zealand, Argentina, US Secretary of State, former US President, Queen Queen, Prince of Britain, Norwegian Princess, Princess of Thailand. , UN Secretary General, former British Prime Minister, French President, First Minister and Russian President …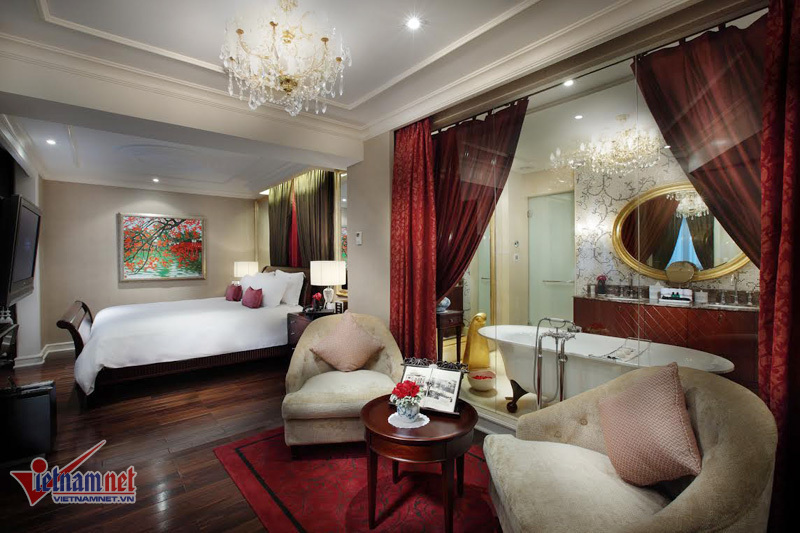 President of the Bedroom
Many celebrities come to Hanoi choosing this prestigious hotel such as Charlie Chaplin, Angelina Jolie, Brad Pitt, David Beckham, Chau Tan, Truong Tu Lam …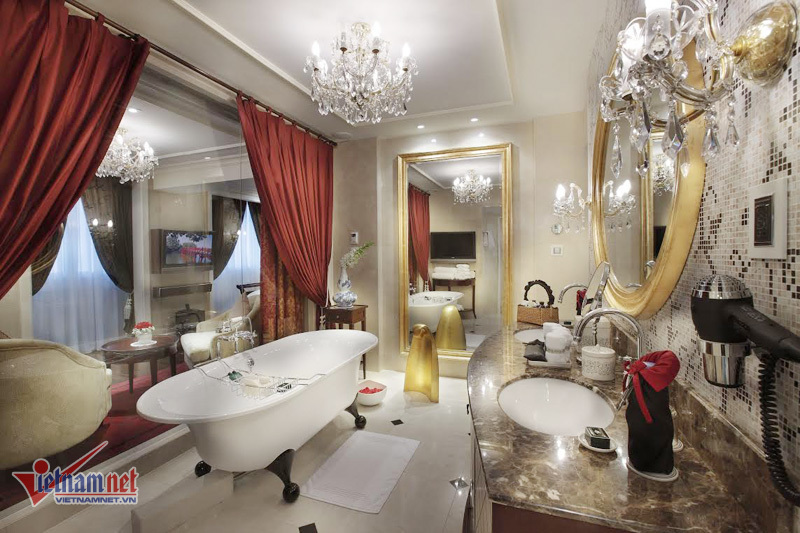 Bathroom furniture
President Barack Obama
During his stay in Hanoi in May 2016, Mr Barack Obama during his stay in May 2016, which was a room for the President of JW Marriott Hotel (Duc Duc Doc, Nam Liam Liem Area), with a rent of around 7,000 USD / us (about 157 million VND).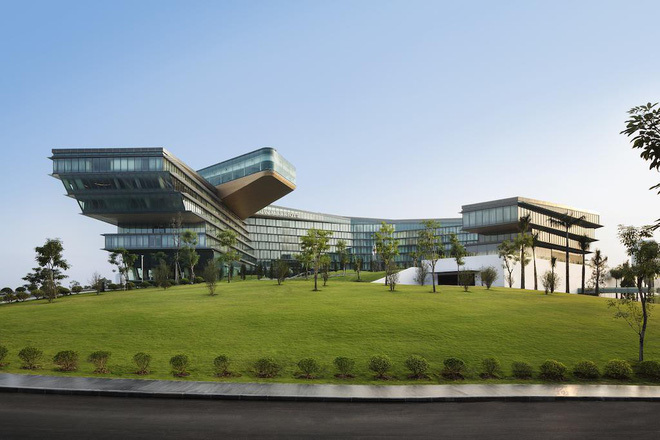 Having located in the complex of the National Convention Center in the Nam Tu Liem area (Hanoi), a 5 star hotel was JW Marriott designed to design the nobility and nobility of the "legendary interesting" symbol.
Hotel 5 star JW Marriott Hanoi built in 2013 with 9 floors, 450 rooms.
The original room has a total of 320 m2, inside there are 8 different rooms, a 3 47 inch screen TV and a modern audio system. The living room accounts for almost half of all the area of ​​common use
Having located at Hanoi's new administrative center and on the site of the National Convention Center, JW Marriott's hotel is developed from the image of "legendary dragon", a symbol of strength and nobel. .
The original room has a total of 320 m2, inside there are 8 different rooms, a 3 47 inch screen TV and a modern audio system. The living room accounts for almost half of all the area of ​​common use. This is one of the most expensive rooms in Vietnam.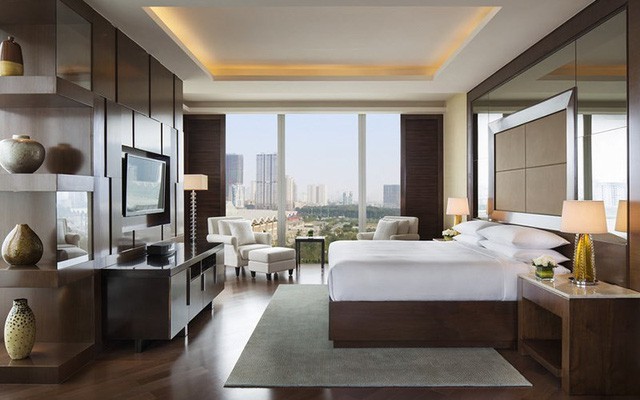 Large bedroom with large bed, soft salon. This is also one of three tenant rooms that can take pictures to natural light and see Hanoi
This is also one of the rooms with the best view of the hotel, of 3 facades and 270 degree viewing angle and tilt-up windows, you can comfortably find Hanoi through & # 39; the large glass panels.
With glazed windows overlooking, the bathroom receives all the natural light, giving feelings that the guests are not as secret as the usual bathroom.
President George W. Bush
The Sheraton Hotel is where former President George W. Bush used to wait when he attended the Hanoi APEC Conference and paid an official visit to Vietnam in November 2006. The hotel is located near West Lake, which has welcomed many famous politicians.
Sheraton hotel lobby in Hanoi
In 2006, the US side hired the hotel's 18th floor for President Bush. To ensure safety, no-one knows where Mr Bush is in 3 rooms. At that time, the 18th floor and the entire corridor were responsible for the American security forces, no-one could reach.
The hotel has 299 rooms with 18 floors, each with views of West Lake and Afon Coch. The largest room is King, up to 176 m2, located on the 18th floor, inside classic styles. Individually designed places such as bedrooms, working rooms. The eating table can accommodate up to 8 guests, suitable for personal meals or board meetings.
All the Imperial and presidential rooms have all expensive, modern facilities. There is also room for guardians and secretaries.
President of Bill Clinton
The Daewoo Hotel (Ba Dinh District, Hanoi) is where President Bill Clinton stayed while visiting Vietnam in 2000.
Royal Room (Royal Room) is a room for state headquarters, 288 m2 with two living rooms, three bedrooms, a bathroom, a kitchen, a separate dressing room with lots of wardrobe … The room is spacious Located on the floor To 16, is a loan with a glass door frame and a large balcony, with 3 sides facing 3 sides.
In particular, the second living room can be used as a meeting room, a dining room for 8-10 people.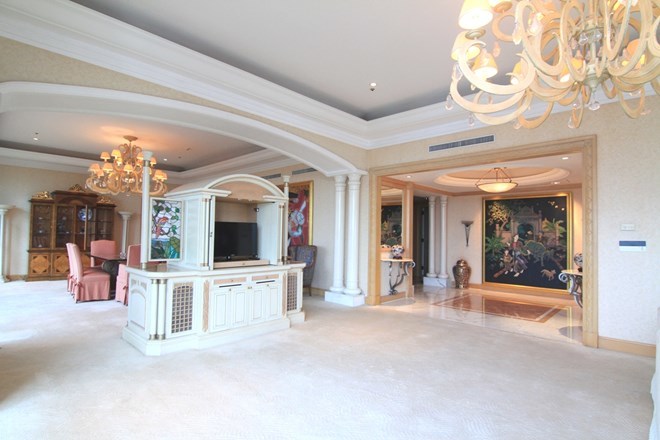 The Hoang Gia room is 288m2 wide. Many corners have been completely decorated
The hotel has been open since 1996 and the presidential office was once home to more than 70 state heads and senior leaders when they arrived in Vietnam.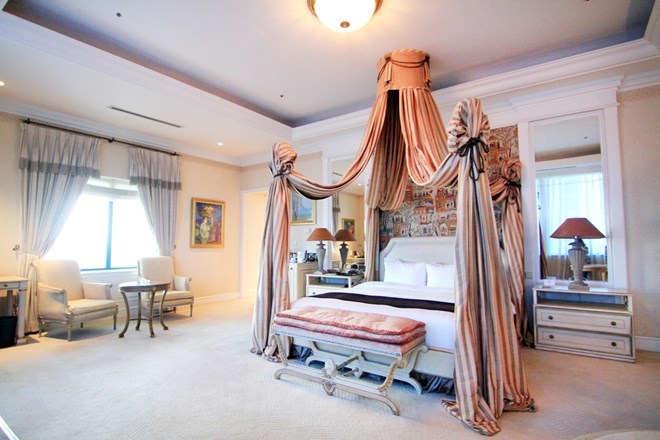 Modern interior, luxury, Royal bedroom
In addition to former US President Bill Clinton (2000 visits), a number of other VIPs also included Russian President Vladimir Putin, former Chinese President Hu Jintao or former Brazilian President Luiz Inacio Lula da Silva …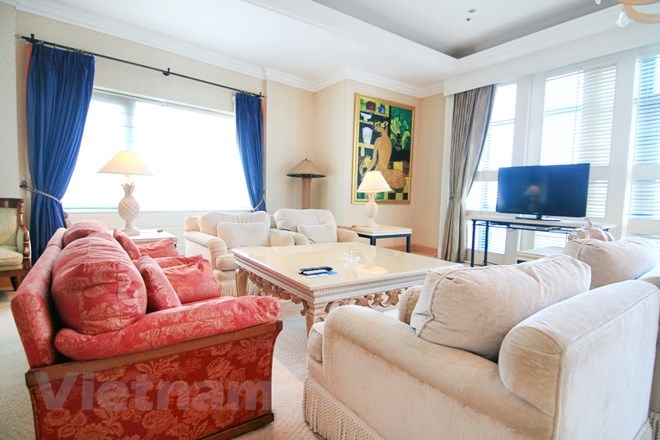 Large meeting room
In addition, the former President of the US Bill Clinton was also the King's room at the Sheraton Hanoi Hotel.
The front line team arrived with Kim Jong-a's supercar Hanoi
A new North Korea IL-76 MD transportation plane has landed on Noi Bai airport, transporting a Kim Jong-a bullet-online supercar and hundreds of front-line troops.
Nam Thanh(after synthesis) – – Photo: Hotel, VNA
Source link