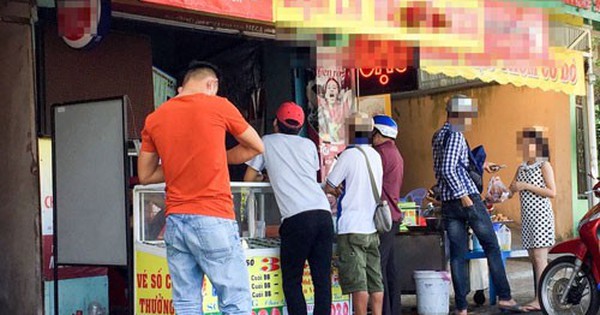 Every afternoon, walking around a circle is not hard to see images of many people sitting in a water shop or standing in front of the lottery's agents to look for luck.
People living in the afternoon
A witness of all kinds of wrath before and after the lottery, Mrs Le Thi Kim Le (72 years old, living in Cai Rang, Can Tho city) said that there was a time when someone saw a lottery ticket in the shop. At first, he thought it was almost time for this person to be sold out of the lottery. When I asked, she knew that this person was spending more than 1 million VND to buy numbers to earn money to pay the debt alone. "That day, the lottery was almost gone, this person turned from the hopeful face sad, like … the wind hit" – said Ms Le.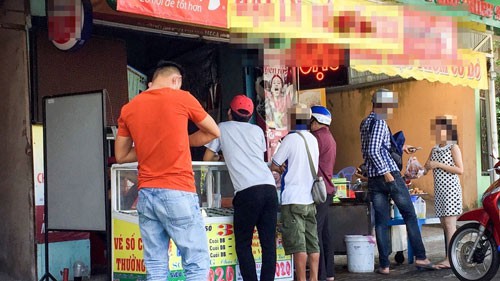 Pictures often found in the lottery agents before the lottery Photo: Song Anh
According to the shopper opposite the lottery agent in Can Tho City, his water shop was only crowded early in the morning and the end of the afternoon. Early in the morning, visitors are a coffee zip and go to work; In the afternoon, this is the time for those interested in the result sheet opposite the lottery. "I've been selling here for ten years but I haven't seen anyone happy and happy because of the jackpot. I also bought the number but luckily I got the first lot ( the lowest award – PV) "- he said.
Master Ngo Thanh Thuan, a psychological consultant from Can Tho City Family Planning Association, explains why Westerners often buy lottery tickets compared to other regions. "First, Westerners live very proudly, sit coffee or drink, find poor people who sell lottery tickets, buy support instead of taking money to make a merit. People who buy lottery tickets want luck, the chances of winning lottery tickets are very low, so they pray and believe in heaven, they'll be; I feel that sitting and staying and listening to the lottery is fun "- explained Thuan Master.
More missing
According to expert calculations, the likelihood of winning the jackpot is very low (about 1 / 100,000). Therefore, considering buying lottery tickets should be a joy, do not put a lot of passion on passion or "luck" to affect the family's economy. "I have a brother, going to work every day to get 150,000 VND, getting a 2 day wage but dare to give 100,000 VND to buy 10 lottery tickets. It costs money to buy rice on for my wife and my children "- said Mr. t
According to Dr. Tran Huu Hiep, the construction lottery, whether it's seen from a business or social phenomenon, exhibits two good sides – is bad, they can't abuse or prohibit extreme. But when there are too many sellers, lottery players, from urban to rural areas, there is a big impact on people's livelihoods and lives. At that time, lottery tickets were now only a chance game. An indispensable lottery is a profitable business, and attracting investors is an important source of local revenue. The government can use most of the lottery revenue to reinvest in health, education and other social welfare projects. "The left side needs to be identified, although lottery tickets generate large revenue, but from a social perspective, many families are scattered because of abuse of this game" – said Dr Tran Huu Hiep.
Dr argued. Hiep also said that selling this game alongside poverty, the intellectual level of Western people – a large market of lottery – is worth considering. In a paradox that everyone sees as poor states, a low education gap has a high turnover and large revenues from lottery revenue. The number of ticket vendors is often full in poor areas where the West is typical. Mr Hiep said: "The route to escape poverty is vital for every person, every house, every area has to come from mechanisms and policies to attract investment, economic development, create sustainable jobs and improve t human resource quality Good or bad, fast or slow depends on how to solve the problem "the cost and benefits" of the chance game is lottery.
Master Ngo Thanh Thuan also recommends: "If you think buying good quality lottery tickets is very fragile and adventurous. Parents want to buy lottery tickets inadvertently to lazy children, good luck, children see their parents how So, if you go to work for 1 day, 200 thousand-300 thousand VND, then this money will be in your pocket, but if you & Buying lottery tickets, you'll be lucky if you buy them, or you'll lose money. ".
Poor people like to play the lottery
Dr Tran Huu Hiep said that there had been serious studies on psychology, behavior and impact factors for lottery players in the United States and developed countries. The overall conclusion is that most poor people like to play the lottery. Although most of them know that it will be difficult to become rich, the lottery ticket is a kind of giving the best amount of money to buy a big and fragile hope. In Vietnam and Mekong Delta, there has been little research in this area. Recently, two lecturers Pham Le Thong and Le Thanh Hoang Huy, the University of Can Tho University Economics, undertook a study on "Spend for people lottery in Can Tho City". The results show that spending on building a Can Tho lottery depends on personal qualities such as income, education level, age, marital status, ethnicity and occupation of the players. . The proportion of people playing the lottery is relatively high, accounting for nearly 55% of the observations in the sample, most of which are regular customers, who are 39 account for more than 85% of total customers.
(*) See the Labour's Newspaper from the 30-3 publication date
LINH CA – NOW CALL