November 28 – 40 days after the death of actor Zhytomyr, "Diesel Show" Marina Poplavskaya, who died in a terrible accident near Kiev.
Marina colleagues left the official Facebook page on an exciting job.
"Today there are 40 days, as Marina Poplavskaya is not with us. The Orthodox believes that the Soul leaves Earth on the fourth day, but we do not know that you are our Angel now. we felt #MarinaSnami ", – they signed the announcement.
"And the brilliant humor, Wise, Da, Deep and Dawnog – you, like the foremost, will carry millions. We will not give the best to love us, family and friends, friends. Low bowch and Burn your Star ", the artists wrote from" Diesel Show ".
In addition, Marina fans expressed sympathy under the announcement.
"How much time it flies quickly. The Kingdom of heaven is for it", "We'll remember, Marina Poplavskaya." Golden, magical person "," For 40 days now. How she lost, "" Remember, love, grief "social network users.
As stated by Journal of Zhytomyr, in the middle of Zhytomyr they intend to build a memorial to the famous actress Marina Poplavskaya, who died in a terrible accident near Kiev. With such an initiative, his friends and colleagues from the KVN "Women of Zhytomyr" team are going to address the city authorities.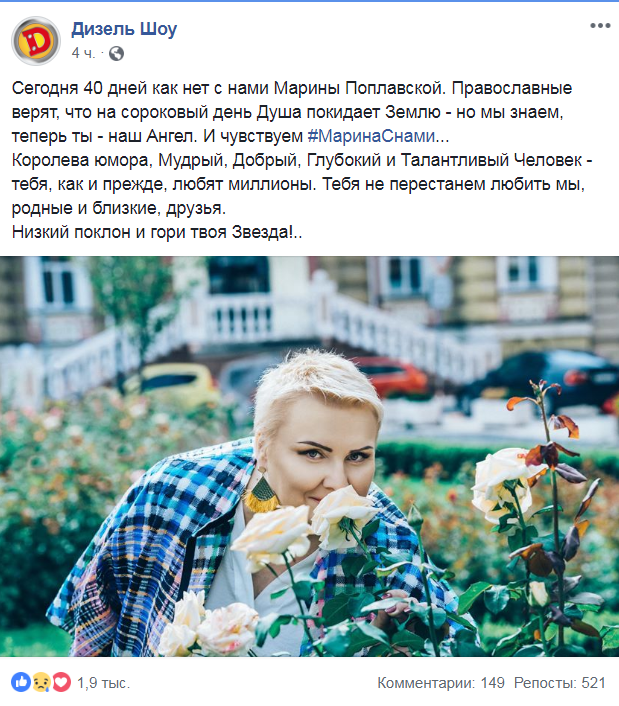 7 facts about the Queen's humor
Marina worked at school as a language teacher and Ukrainian literature for over 20 years.
Love all the autumn flowers, warnings and yellow roses.
The accessories loved, especially the sunglasses.
Marina was fond of Odessa, the actress, like no-one, knew how to convey a colorful "Odessa" accent.
The origins of Marina Poplavskaya originate in Polish dignity – Vytentii Lewandowski's taunt was a Polish baron.
By her personal accomplishment, Marina called what she could accept and loved herself.
But above all, Marina loved people. For her audience, she was ready to practice and perform for days!
The "Diesel Show" actors recall memory of Marina Poplavskaya, who died in an accident 40 days ago