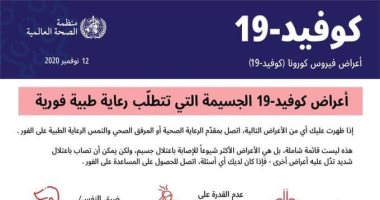 The World Health Organization disclosed various symptoms of suspected cases of coronavirus, which the organization shared as follows:
Strong symptoms that need immediate care and treatment:
1- Shortness and difficulty breathing
2- Loss of ability to speak or move
3- Pain in the chest
The most common symptoms:
1- High temperature
2- Dry cough.
3- Fatigue
4 – Loss of sense of smell and taste
Less common symptoms:
1- Sore throat
2- Headache
3- Diarrhea
4- Red and sensitive spots on the skin
5- Redness of the eye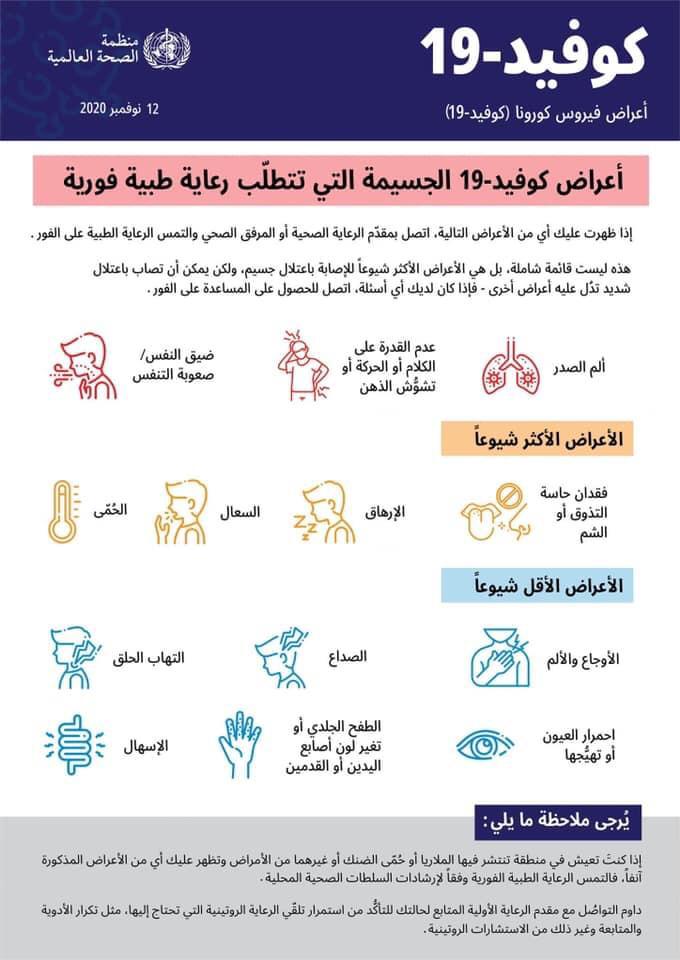 Introducing Corona
And the Ministry of Health and Population unveiled the new symptoms appearing on suspected cases of Coronavirus, which included strong symptoms that required prompt care and treatment, such as shortness of breath, difficulty breathing, loss of ability to speak and moving with severe chest pain.
The Ministry of Health and Population said: Common symptoms appear on many suspected cases of corona, which at a high temperature of more than 38 degrees, dry cough, fatigue and loss of sense of smell and taste, and have, a less common group of symptoms, including sore throat, headache, diarrhea and red spots. And sensitivity in the skin and redness of the eye.
The updated version of the protocol included a definition of the infected, suspected and likely case of infection with the Coronavirus, its symptoms, diagnosis, and method of treatment, whether by isolation a captive home for mild cases and some moderate cases, or hospital isolation for moderate cases with severe symptoms, or dangerous and requiring careful attention..
Source link