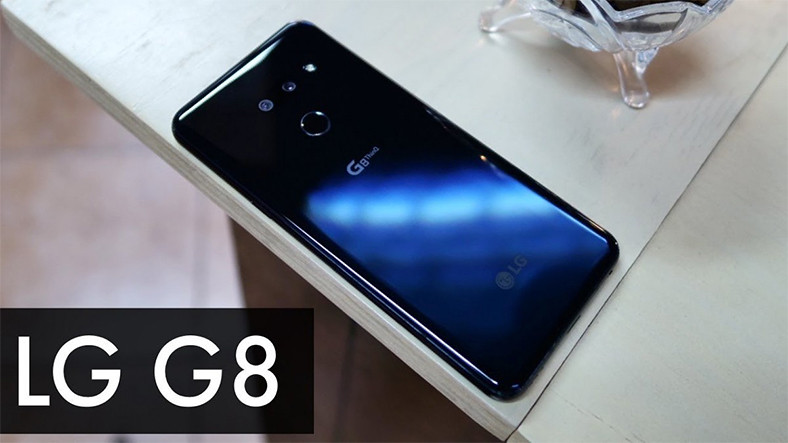 [ad_1]
The new LG lead, the G8, is very interesting with its features, but people think how robust the device is. We also explain the video of your LG G8 soundness test.
LG used a very small design in its main G8 this year. A YouTube channel 'JerryRigEverything', which tests the robustness of the G8, explains almost every question. There is no camera intrusion on the device and the front panel has a drop spiral with two cameras. It takes about 10 minutes for a professional to open the device.
The device display doesn't cause any damage to the device when the Glass Gorilla 5 is in your pocket. However, substances such as granite, quartz or sapphire can damage the screen of your device. In addition, the device display can last up to 18 seconds.
The LG G8 side panels have been made of aluminum, but not on the other phones, as the paint on the top can be easily scratched with a sharp object.
The back panel of the phone has been covered with a glass plate and has a wireless charging circuit underneath it. The logos and text on the back panel are located under the glass panel, making it impossible to draw. The fingerprint reading sensor is also resistant. Typically, smartphones have an extra panel to protect the camera, but the LG G8 isn't the best option, instead the back panel itself protects the camera.
It is also quite difficult to turn this device like other admirals. So the test result video: The LG G8 is a solid phone.
You can access the video from which the product's soundness is tested.
$ (Function)
// facebook window.fbAsyncInit = function () { fb.init ({ appId: '1037724072951294 & # 39; xfbml: true, version: v2.5 & # 39; }); };
(function (d, s, id) { var js, fjs = d.getElementsByTagName (s)[0]; if (d.getElementById (id)) {return;} js = d.createElement (s); js.id = id; js.src = "http://connect.facebook.net/en_US/sdk.js"; fjs.parentNode.insertBlaen (js, fjs); } (document, 'script', 'facebook-jssdk'));
$ ('Body'). Ten ({ click: function () { // facebook save ajax button If fb.xfbml.p (); } }; '.Bookbook-save';
// scrolling shares length ($ ('.- content-sticky') up to 0) { if ($ (window) .width ()> = 768) { $ (window) .on ('scroll', function () { have scrollTop = $ (this) .scrollTop (); $ ('Article') the same (function) if (scrollTop> = ($ (this).) (). $ (This) .find ('Content-sticky') AddClass ('sticky';); (($ (this) .find (.. content body)) offset () top + $ (this) .ffind (body content)) height () - ($ (this .find (& # 39) .- content-sticky;) height () + 92)) { $ (This) .find ('Content-sticky.') RemoveClass ('sticky';); $ (this) .While ('. content-sticky'). css ('bottom': '0px', 'top': 'auto'); } other { $ (This) .find ('. Will include' sticky '). AddClass ('sticky'). Css ({ 'Bottom': 'initial', 'Top': '76px'; }); } } other { $ (this) .ffind ('.- content-sticky') .DeleteClass ('sticky'). } }); }); } }
// shareholding $ ('Body'). Ten ({ click: function () { var $ this = $ (this), dataShareType = $ this.attr ('type-share-data'), dataType = $ this.attr ('data type'), dataId = $ this.attr ('data-id'), dataPostUrl = $ this.attr ('data-mail-url'), dataTitle = $ this.attr ('data title'), dataSef = $ this.attr ('data-');
switch (dataShareType) { for 'facebook'; fb.u o ({ method: 'share', href: dataSef, }, function (response) { if (reply & & reply.error_message) { updatehit (); } });
cutting;
for twitter & # 39; shareWindow (https: //twitter.com/intent/tweet/ via = webtekno & text = + encodeURIComponent (dataTitle) +% 39%%% B6 + encodeURIComponent (dataSef) )); updatehit (); cutting;
for gplus & # 39; shareWindow (https: //plus.google.com/share = encodeURIComponent (dataSef)); updatehit (); cutting;
for mail & mail: window.location.href =? mailto:? subject = & # 39; + encodeURIComponent (dataTitle) & body = & # 39; + encodeURIComponent (dataSef); // updatehit (); cutting;
for 'whatsapp': t window.location.href = whatsapp: // send? text = & # 39; + encodeURIComponent (dataTitle) + # 39;% E2% 96% B6 & # 39; + encodeURIComponent (dataSef); updatehit (); cutting; }
shareWindow function (url) { window.open (url, "_blank", "toolbar = yes, scrollbars = ie, resizable = yes, top = 500, left = 500, width = 400, height = 400"); }
update functionHit () { $ .Ajax ({ type: "POST", url: dataPostUrl, data: {contentId: dataId, contentType: dataType, shareType: dataShareType}, success: function (data) {
length ($ ('.-- video display') up to 0) { var $ container = $ ('video-display'); } other if (article ($)[data-id="' + dataId + '"]>>>>> {) var $ container = article ($)[data-id="' + dataId + '"]'; } another if ($ (& 39 '. wt-share-item)[data-id="' + dataId + '"]>>>>> {) var $ container = $ ('wt-share-item[data-id="' + dataId + '"]'; } other { $ container = null; }
// var $ container = dataType == 'video'; $ ('. Video-display'): $ ('article'[data-id="' + dataId + '"]';
if ($ container! = null && $ container.length> 0) { $ $ badged = $ container.find ('wt-share-badge-- ++ dataShareType);
find $ headerCount = $ ('.- header-header'). $ containerCount = $ container.find ('wt-share-count -). value = parseInt ($ containerCount.html ()) + 1;
$ container.data ('share', value); //$containercount.html(valu A);
os ($ headerCount.length> 0) { //$headercount.html(valu A); }
if ($ badged.length> 0 && (dataShareType == 'facebook') dataShareType = 'twitter') if ($ badged.hasClass ('visible'); //$badged.html(dat A); } other { //$badged.addclass('is-visible').html(dat A); } } }
} }); } } }, '.Tut-share-button') }); [ad_2]
Source link