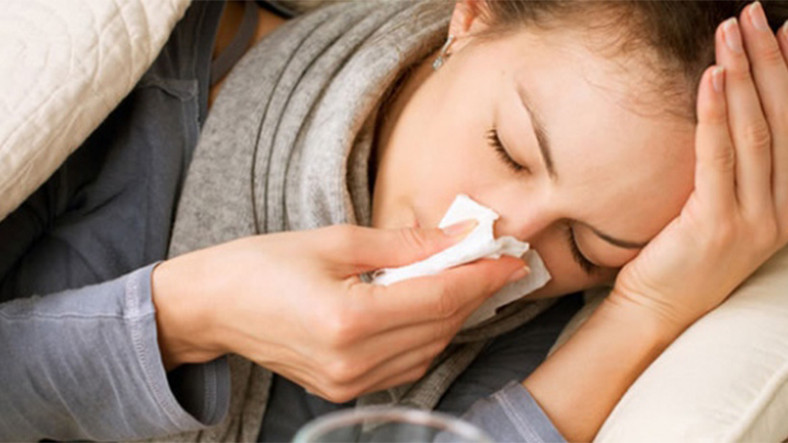 [ad_1]
The Centers for Disease Control and Prevention in the United States revealed in their weekly flu report that flu activities were high across the United States.
From winter to spring, it is used to see a reduction in flu levels. Flu viruses, which can not spread too much as the weather starts warm, is beginning to affect smaller people. But the Centers for Disease Control and Prevention (CDC) in the United States say flu levels are still at very high levels.
H1N1 and H3N2 are the most varied types of flu flu, while H3N2 is most common. In the USA-wide survey, provinces with a low population have more viruses; More full places, such as California, Washington and New York are reported to be normal seasonal virus levels.
There are a few basic ways to protect against the flu; At the beginning, this is the vaccine of course. If the virus type is the same as the vaccine, the body is prepared directly and the flu process is more comfortable if it is & # 39; n like.
Apart from vaccinating, walking and keeping the body fit, paying attention to what we eat and drink, giving the importance to clean the home and & # 39 The body is also factors that help prevent the flu.
Kaynak : https://www.slashgear.com/another-wave-of-severe-flu-infections-is-coming-warns-cdc-08569274/
$ (Function () {
// facebook window.fbAsyncInit = function () { fb.init ({ appId: & # 39; 1037724072951294 & # 39 ;, xfbml: true, version: & # 39; v2.5 & # 39; }); };
(function (d, s, id) { var js, fjs = d.getElementsByTagName (s)[0]; os (d.getElementById (id)) {return;} js = d.createElement (s); js.id = id; js.src = "http://connect.facebook.net/en_US/sdk.js"; fjs.parentNode.insertBefore (js, fjs); } (document, & script, & # 39; facebook-jssdk & # 39;));
$ (& # 39; Body & # 39;). Deg ({ click: function () { // facebook save ajax button Os fb.xfbml.p (); }} }, & # 39; .facebook-save & # 39;);
// divide scroll os ($ (& # 39 ;. content-sticky & # 39;). hyd> 0) { Os ($ (window) .width ()> = 768) { $ (window) .on (& # 39; scroll & # 39 ;, function () { you have scrollTop = $ (this) .scrollTop (); $ (Article & # 39;). each (function () { os (scroll Top> = ($ (this) .find (& # 39 ;. content-body & # 39;). offset (). top - 76)) { $ (This) .find (& content-adhesive. & # 39;) AddClass (& sticker & # 39;) .; (($ (this) .find (& # 39; content-body & # 39;). offset (). top + $ (this) .find (& content-body & # 39;). height () - ($ (this .find (& # 39; content-sticky & # 39;). height () + 92))) { $ (This) .find (& content-adhesive. & # 39;) RemoveClass (& # 39; sticky & # 39;) .; $ (this) .find (& # 39 ;. content-sticky & # 39;). css (& # 39; & # 39; bottom & # 39;: & # 39; 0px & # 39;, & # 39; top & # 39;: & # 39; auto & # 39;}); } another { $ (This) .find (& content-sticky & # 39;). AddClass (& Sticker & # 39;). Css ({ & Bottom: startup & # 39 ;, & # 39; top & # 39 ;: & # 39; 76px & # 39; }); }} } another { $ (this) .find (& # 39 ;. content-sticky & # 39;). removeClass (& # 39; sticky & # 39;). css (& # 39; & # 39; bottom & # 39;: & # 39; auto & # 39;, & # 39; top & # 39;: & # 39; 0 & # 39;}); }} }); }); }} }}
// share click $ (& # 39; Body & # 39;). Deg ({ click: function () { var $ this = $ (this), dataShareType = $ this.attr (& # 39; data-share-type & # 39;), dataType = $ this.attr (& data type & # 39;), dataId = $ this.attr (& # 39; data-id & # 39;), dataPostUrl = $ this.attr (& # 39; data-post-url & # 39;), dataTitle = $ this.attr (& # 39; data-title & # 39;), dataSef = $ this.attr (& # 39; data-namely & # 39;);
change (dataShareType) { case & facebook & # 39 ;: fb.u o ({ method: & share, href: dataSef, }, function (response) { os (response &&! response.error_message) { updatehit (); }} });
cutting;
case & # 39; twitter & # 39 ;: shareWindow (& https: //twitter.com/intent/tweet? via = webtekno & text = & # 39; + encodeURIComponent (dataTitle) + & # 39;% E2% 96% B6 & # 39; + encodeURIComponent (dataSef )); updatehit (); cutting;
case & # 39 ;: shareWindow (& # 39; https: //plus.google.com/share? url = & # 39; + encodeURIComponent (dataSef)); updatehit (); cutting;
case case & # 39 ;: window.location.href = & # 39; mailto :? subject = & # 39; + encodeURIComponent (dataTitle) + & # 39; & body = & # 39; + encodeURIComponent (dataSef); // updatehit (); cutting;
case & #; whatsapp & # 39; case: window.location.href = & # 39; whatsapp: // send? text = & # 39; + encodeURIComponent (dataTitle) + & # 39;% E2% 96% B6 & # 39; + encodeURIComponent (dataSef); updatehit (); cutting; }}
shareWindow function (url) { window.open (url, "_blank", "toolbar = yes, scrollbars = yes, resizable = yes, top = 500, left = 500, width = 400, height = 400"); }}
updateHit function () { $ .Ajax ({ good: "POST", url: dataPostUrl, data: {contentId: dataId, contentType: dataType, shareType: dataShareType}, success: function (data) {
os ($ (& video-display & # 39;). hyd> 0) { var $ container = $ (& # 39 ;. video-display & # 39;); } another if ($ (& # 39; article[data-id="' + dataId + '"]& # 39;) .faint> 0) { var $ container = $ (& # 39; article[data-id="' + dataId + '"]& # 39;); } else if ($ (& # 39 ;. wt-share-item[data-id="' + dataId + '"]& # 39;) .faint> 0) { var $ container = $ (& # 39 ;. wt-share-item[data-id="' + dataId + '"]& # 39;); } another { $ container = null; }}
// var $ container = dataType == & # 39; video & # 39 ;? $ (Video-display & # 39;): $ (article[data-id="' + dataId + '"]& # 39;);
Os ($ container! = Null && $ container.length> 0) { $ $ badged = $ container.find (& # 39 ;. wt-share-badge - & # 39; + dataShareType);
find $ headerCount = $ (& # 39 ;. content-header & # 39;). find (& quot; wt-share-count & # 39;), $ containerCount = $ container.find (& # 39 ;. wt-share-count & # 39;), value = parseInt ($ containerCount.html ()) + 1;
$ container.data (& share, value); //$containercount.html(valu A);
os ($ headerCount.length> 0) { //$headercount.html(valu A); }}
os ($ badged.length> 0 && (dataShareType == & # 39; facebook & # 39; || dataShareType == & # 39; twitter & # 39;)) { os ($ badged.hasClass (& # 39; is-visible & # 39;)) { //$badged.html(dat A); } another { //$badged.addclass('is-visible').html(dat A); }} }} }}
}} }); }} }} }, & # 39; .wt-share-button & # 39;) }); [ad_2]
Source link