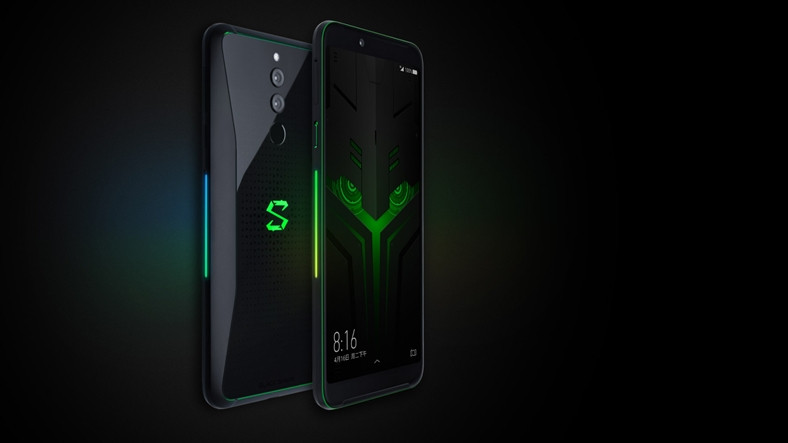 [ad_1]
Next week, the Xiaomi Black Shark 2 user interface screensaver will be published.
Xiaomi will present her new smartphone from the Black Shark 2 name this Monday, but we already know a lot about the device thanks to benchmarking and release trailers. Also a little while ago, a photograph of the external obstruction of the phone was drawn up. According to the picture, the double rear camera of the phone has been located in the upper left corner.
Thanks to Lin Bin, co-founder of Xiaomi, a screen of the user interface has recently dropped to the Internet.
The screen was revealed when Lin Bin published on Weibo. Although the image does not specify the Black Shark 2 full screen resolution, we can at least predict that the solution ratio will be 19.5: 9. This information was already visible on the last Friday list prepared by AnTuTu.
The user interface is amazing with mechanical, bright colors and futuristic design.
Do you like men?
Kaynak : https://www.gsmarena.com/check_out_the_first_screenshot_from_the_blackshark_2-news-35951.php
$ (Function () {
// facebook window.fbAsyncInit = function () { fb.init ({ appId: & # 39; 1037724072951294 & # 39 ;, xfbml: true, version: & # 39; v2.5 & # 39; }); };
(function (d, s, id) { var js, fjs = d.getElementsByTagName (s)[0]; os (d.getElementById (id)) {return;} js = d.createElement (s); js.id = id; js.src = "http://connect.facebook.net/en_US/sdk.js"; fjs.parentNode.insertBefore (js, fjs); } (document, & script, & # 39; facebook-jssdk & # 39;));
$ (& # 39; Body & # 39;). Deg ({ click: function () { // facebook save ajax button Os fb.xfbml.p (); }} }, & # 39; .facebook-save & # 39;);
// divide scroll os ($ (& # 39 ;. content-sticky & # 39;). hyd> 0) { Os ($ (window) .width ()> = 768) { $ (window) .on (& # 39; scroll & # 39 ;, function () { you have scrollTop = $ (this) .scrollTop (); $ (Article & # 39;). each (function () { os (scroll Top> = ($ (this) .find (& # 39 ;. content-body & # 39;). offset (). top - 76)) { $ (This) .find (& content-adhesive. & # 39;) AddClass (& sticker & # 39;) .; (($ (this) .find (& # 39; content-body & # 39;). offset (). top + $ (this) .find (& content-body & # 39;). height () - ($ (this .find (& # 39; content-sticky & # 39;). height () + 92))) { $ (This) .find (& content-adhesive. & # 39;) RemoveClass (& # 39; sticky & # 39;) .; $ (this) .find (& # 39 ;. content-sticky & # 39;). css (& # 39; & # 39; bottom & # 39;: & # 39; 0px & # 39;, & # 39; top & # 39;: & # 39; auto & # 39;}); } another { $ (This) .find (& content-sticky & # 39;). AddClass (& Sticker & # 39;). Css ({ & Bottom: startup & # 39 ;, & # 39; top & # 39 ;: & # 39; 76px & # 39; }); }} } another { $ (this) .find (& # 39 ;. content-sticky & # 39;). removeClass (& # 39; sticky & # 39;). css (& # 39; & # 39; bottom & # 39;: & # 39; auto & # 39;, & # 39; top & # 39;: & # 39; 0 & # 39;}); }} }); }); }} }}
// share click $ (& # 39; Body & # 39;). Deg ({ click: function () { var $ this = $ (this), dataShareType = $ this.attr (& # 39; data-share-type & # 39;), dataType = $ this.attr (& data type & # 39;), dataId = $ this.attr (& # 39; data-id & # 39;), dataPostUrl = $ this.attr (& # 39; data-post-url & # 39;), dataTitle = $ this.attr (& # 39; data-title & # 39;), dataSef = $ this.attr (& # 39; data-namely & # 39;);
change (dataShareType) { case & facebook & # 39 ;: fb.u o ({ method: & share, href: dataSef, }, function (response) { os (response &&! response.error_message) { updatehit (); }} });
cutting;
case & # 39; twitter & # 39 ;: shareWindow (& https: //twitter.com/intent/tweet? via = webtekno & text = & # 39; + encodeURIComponent (dataTitle) + & # 39;% E2% 96% B6 & # 39; + encodeURIComponent (dataSef )); updatehit (); cutting;
case & # 39 ;: shareWindow (& # 39; https: //plus.google.com/share? url = & # 39; + encodeURIComponent (dataSef)); updatehit (); cutting;
case case & # 39 ;: window.location.href = & # 39; mailto :? subject = & # 39; + encodeURIComponent (dataTitle) + & # 39; & body = & # 39; + encodeURIComponent (dataSef); // updatehit (); cutting;
case & #; whatsapp & # 39; case: window.location.href = & # 39; whatsapp: // send? text = & # 39; + encodeURIComponent (dataTitle) + & # 39;% E2% 96% B6 & # 39; + encodeURIComponent (dataSef); updatehit (); cutting; }}
shareWindow function (url) { window.open (url, "_blank", "toolbar = yes, scrollbars = yes, resizable = yes, top = 500, left = 500, width = 400, height = 400"); }}
updateHit function () { $ .Ajax ({ good: "POST", url: dataPostUrl, data: {contentId: dataId, contentType: dataType, shareType: dataShareType}, success: function (data) {
os ($ (& video-display & # 39;). hyd> 0) { var $ container = $ (& # 39 ;. video-display & # 39;); } another if ($ (& # 39; article[data-id="' + dataId + '"]& # 39;) .faint> 0) { var $ container = $ (& # 39; article[data-id="' + dataId + '"]& # 39;); } else if ($ (& # 39 ;. wt-share-item[data-id="' + dataId + '"]& # 39;) .faint> 0) { var $ container = $ (& # 39 ;. wt-share-item[data-id="' + dataId + '"]& # 39;); } another { $ container = null; }}
// var $ container = dataType == & # 39; video & # 39 ;? $ (Video-display & # 39;): $ (article[data-id="' + dataId + '"]& # 39;);
Os ($ container! = Null && $ container.length> 0) { $ $ badged = $ container.find (& # 39 ;. wt-share-badge - & # 39; + dataShareType);
find $ headerCount = $ (& # 39 ;. content-header & # 39;). find (& quot; wt-share-count & # 39;), $ containerCount = $ container.find (& # 39 ;. wt-share-count & # 39;), value = parseInt ($ containerCount.html ()) + 1;
$ container.data (& share, value); //$containercount.html(valu A);
os ($ headerCount.length> 0) { //$headercount.html(valu A); }}
os ($ badged.length> 0 && (dataShareType == & # 39; facebook & # 39; || dataShareType == & # 39; twitter & # 39;)) { os ($ badged.hasClass (& # 39; is-visible & # 39;)) { //$badged.html(dat A); } another { //$badged.addclass('is-visible').html(dat A); }} }} }}
}} }); }} }} }, & # 39; .wt-share-button & # 39;) }); [ad_2]
Source link