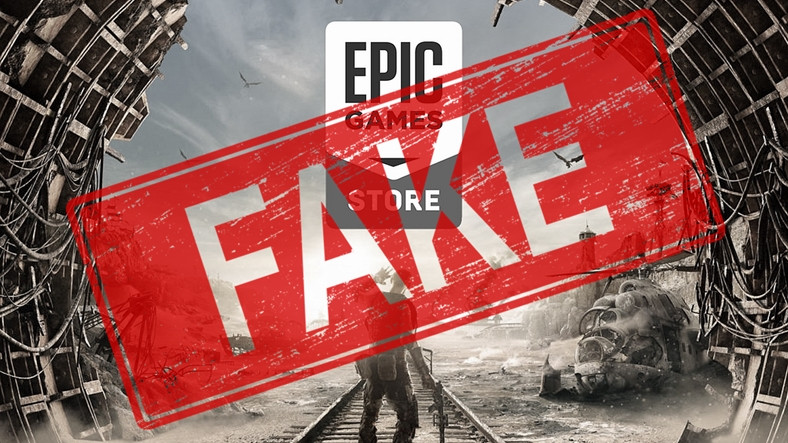 Exodus Metro keys sold to consumers via Epic Store have been canceled under a license name without a license. Purchasers of the game are asked to request a refund.
The Exodus Metro, launched on 15 February this year, is a highly successful FPS (first person shooter) released by Deep Silver. Epic Games, which made a deal with Deep Silver, sold the game over the Epic shop at a very cheap price.
Deep Silver, the game's publisher, told Steam today: t
Tik We realized that Metro Exodus exports are sold by illegal game key suppliers, selling game keys, physical game keys from the facility where they were produced (especially game keys in the Epic Shop). "
The Steam Logo was released from the boxing game of Metro Exodus sold by Epic Games.
The company, based in the UK, is the publisher of Metro Last Light. "The Exodus key license sold on this platform (Epic Shop) is all stolen, ie illegal. continuity in form.
Only "Humble Bundle" and "Razer Store" are negotiated product key vendors, said Deep Money, this smuggling, users can't update the games they are prompted as a result of the investigations.
Kaynak : https://www.vg247.com/2019/04/01/players-with-stolen-metro-exodus-steam-keys-demand-refunds/
$ (Function)
// facebook window.fbAsyncInit = function () { fb.init ({ appId: '1037724072951294 & # 39; xfbml: true, version: v2.5 & # 39; }); };
(function (d, s, id) { var js, fjs = d.getElementsByTagName (s)[0]; if (d.getElementById (id)) {return;} js = d.createElement (s); js.id = id; js.src = "http://connect.facebook.net/en_US/sdk.js"; fjs.parentNode.insert Previous (js, fjs); } (document, 'script', 'facebook-jssdk'));
$ ('Body'). Ten ({ click: function () { // facebook save ajax button If fb.xfbml.p (); } }; '.Bookbook-save';
// scrolling shares length ($ ('.- content-sticky') up to 0) { if ($ (window) .width ()> = 768) { $ (window) .on ('scroll', function () { have scrollTop = $ (this) .scrollTop (); $ ('Article') the same (function) if (scrollTop> = ($ (this).) (). $ (This) .find ('Content-sticky') AddClass ('sticky';); ((.) .find) (+. body (content)) height () - ($ (this .find (.-- content-sticky)) height () + 92)) { $ (This) .find ('Content-sticky.') RemoveClass ('sticky';); $ (this) .ffind ('. content-sticky'). css ('bottom': '0px', 'top': 'auto'); } other { $ (This) .find ('. Will contain-sticky'). AddClass ('sticky'). Css ({ 'Bottom': 'initial', 'Top': '76px'; }); } } other { $ (this) .ffind ('.- content-sticky') .DeleteClass ('sticky'). css ('bottom'): &; auto, &; 'top'; '); } }); }); } }
// shareholding $ ('Body'). Ten ({ click: function () { var $ this = $ (this), dataShareType = $ this.attr ('type-share-data'), dataType = $ this.attr ('data type') dataId = $ this.attr ('data-id'), dataPostUrl = $ this.attr ('data-mail-url'), dataTitle = $ this.attr ('data title'), dataSef = $ this.attr ('data-');
switch (dataShareType) { for 'facebook'; fb.u o ({ method: 'share', href: dataSef, }, function (response) { if (reply & & reply.error_message) { updatehit (); } });
cutting;
for twitter & # 39; shareWindow (https: //twitter.com/intent/tweet. )); updatehit (); cutting;
for gplus & # 39; shareWindow (https: //plus.google.com/share = encodeURIComponent (dataSef)); updatehit (); cutting;
for mail & mail: window.location.href =? mailto:? subject = & # 39; + encodeURIComponent (dataTitle) & body = & # 39; + encodeURIComponent (dataSef); // updatehit (); cutting;
for whatsapp: t window.location.href = whatsapp: // send? text = & # 39; + encodeURIComponent (dataTitle) + # 39;% E2% 96% B6 & # 39; + encodeURIComponent (dataSef); updatehit (); cutting; }
shareWindow function (url) { window.open (url, "_blank", "toolbar = yes, scrollbars = ie, resizable = yes, top = 500, left = 500, width = 400, height = 400"); }
update functionHit () { $ .Ajax ({ type: "POST", url: dataPostUrl, data: {contentId: dataId, contentType: dataType, shareType: dataShareType}, success: function (data) {
length ($ ('.-- video display') up to 0) { var $ container = $ ('video-display'); } other if (article ($)[data-id="' + dataId + '"]>>>>> {) var $ container = article ($)[data-id="' + dataId + '"]'; } another if ($ (& 39 '. wt-share-item)[data-id="' + dataId + '"]>>>>> {) var $ container = $ ('wt-share-item[data-id="' + dataId + '"]'; } other { $ container = null; }
// var $ container = dataType == 'video'; $ ('. Video-display'): $ ('article'[data-id="' + dataId + '"]';
if ($ container! = null & & $ container.length> 0) { $ $ badged = $ container.find ('wt-share-badge-- ++ dataShareType);
find $ headerCount = $ ('.- header-header'). $ containerCount = $ container.find ('wt-share-count'), value = parseInt ($ containerCount.html ()) + 1;
$ container.data ('share', value); //$containercount.html(valu A);
os ($ headerCount.length> 0) { //$headercount.html(valu A); }
if ($ badged.length> 0 && (dataShareType == 'facebook') dataShareType = 'twitter') if ($ badged.hasClass ('visible'); //$badged.html(dat A); } other { //$badged.addclass('is-visible').html(dat A); } } }
} }); } } }, '.Tut-share-button') });
Source link