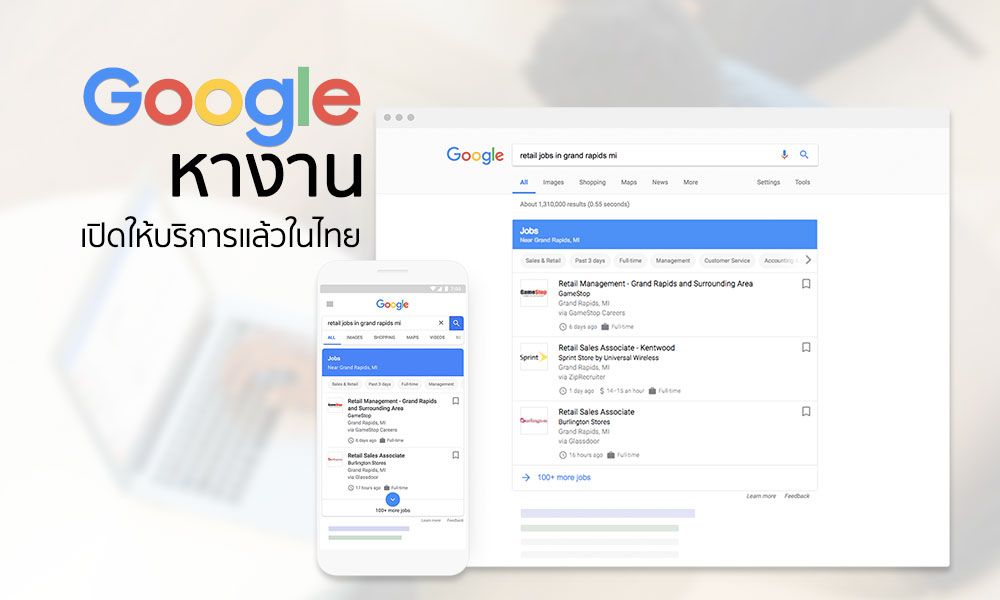 In today's world, if someone is looking for something, Google is the first choice of every service. Including anyone looking for a new job. Previously, the job search on Google is the same as the usual search in the air, but today launched a new Thailand "feature search" feature to customize the display to the Information Panel for job search. Finding the right place is easier and more convenient.
Previous editions
Show Information Panel
Google is launching a job as the 4th country in Asia
This is the fourth country in Asia after opening in India, Singapore and Hong Kong. This feature will send information from the web partners to find jobs. The main thing. JobBkk.com, JobTopGun, Jobthai.com, LinkedIn, scoutout.net, linejobs.me, a blognone. These partners will need to make an api on Google. Looking for work on your own, Google does not limit the cooperation, but only the big head. But also open to other partners. It can send data to the Google Index with the Open Documentation feature. This is a recruitment feature that has been designed to help you get jobs from different organizations. Small and large sites are easily found on Google using open architecture of the name schema.org, which has been powered by Google.
Looking for an online job is becoming increasingly popular. One year after year search growth reached 17% and there was more search for mobile jobs than on desktop computers today. The search for mobile jobs increased by 14% of the previous year.
Over 100,000 jobs are chosen.
When I show Google, the job search is organic or as it should be. There are no advertising features in any way. The search will be tailored to each person by choosing a job closer to home. At present, more than 100,000 jobs have been made.
Search for an Information Panel
You can click to find more.
Filter & desired situation below.
How to use Google Jobs Search
We can search for jobs from Google either through the browser or the app itself. The keyword search can be specific or broader. Enter your company or job title.
Bangkok Administration

Restaurant Manager

Jobs in Apple

Banking
We can customize the job description in several other subjects.
Job Category

Position and distance

Date of publication

Full time or part time

Type of Business

Employer
Which company on the web can publish a job with Google.
Normally, any company that wants to hire more people will have to use the web service only. You can advertise directly to the target audience. But with Google looking for work already launched. We can open the post of the web page, we can do it. The way above is that we have to do the web using Google's api to send data to the content table. If you are not technically interested. And the company has used WordPress or CMS that can find the attachment to be used by many people to do.
Below is a plug-in in WordPress, we can download it instantly. No cost
Droidsans announced job search and facilities.
This will be the plug into the web soon. For now we are expanding the team. Anyone interested in signing up to work together. There are a number of jobs below.
Writer
Creative
Graphic Designer
While waiting for the plug-in, anyone with an interest can send resume to [email protected]
More details about Google for Jobs can be found. Jobs.google.com Whatever