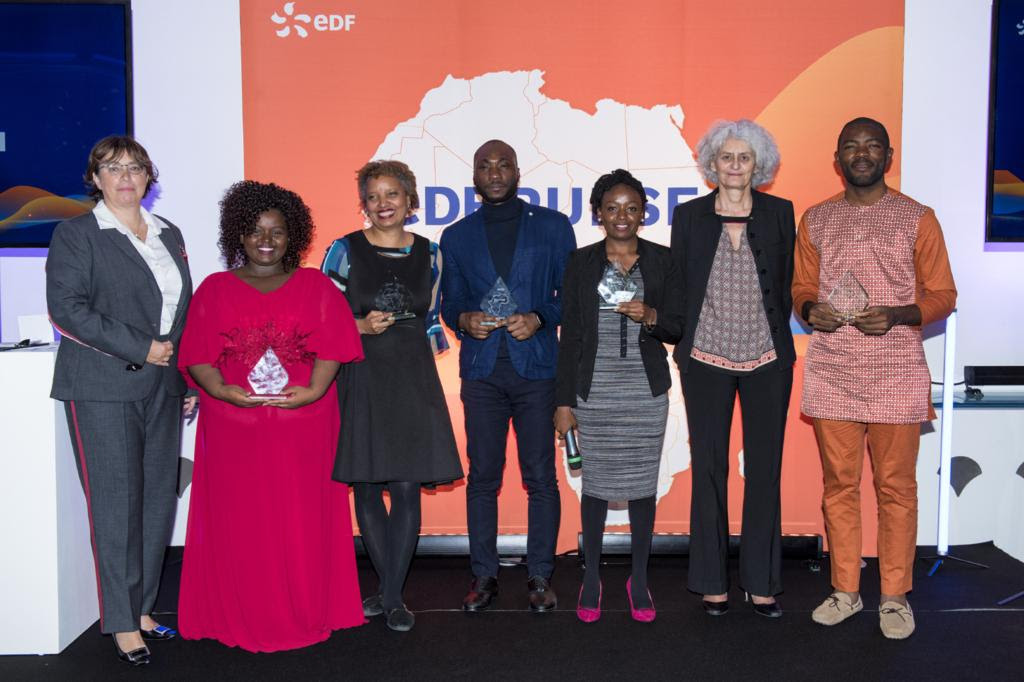 On Friday, November 23rd, 2018, EDF awarded the four winners in the second edition of the Pulse Africa EDF Awards in Paris, a competition aimed at disclosing and supporting African pioneers committed to energy development and the continent. With 4 times more candidates than last year, EDF Pulse Africa confirms the African startup dynamics and interest in the support method offered by EDF.
The 2018 edition of the EDF Pulse Africa 432 of 24 African-speaking projects, mainly speaking English, compared with 103 of 17 countries last year. Among the 10 finalists, the Grand Multidisciplinary Jury has awarded the following projects:

First prize: SAVANNA CIRCUIT TECH (Production category of electrical materials and services, Kenya)
Savanna Circuit Tech Ltd offers a mobile cooling system that works with solar energy. The aim of the plan is to reduce large amounts of milk losses for small producers, which are related to transport distances and lack of infrastructure for conservation. It also helps to combat food uncertainty by preventing bacteria. The answer is supported by an accessible platform via a mobile phone, enabling producers and dairy companies to make the most of their profit.
Second prize: BLACK STAR ENERGY LTD (Grid electricity generation category, Ghana)
This Ghana-based process is specialized in the development of small grids; it is already operating 15 and aims to connect more than 12,000 Ghanaians to electricity by the end of the year. Black Star Energy small grids have very high availability (over 98%); they allow customers to know about their energy use and pay their bills through a mobile phone. The management platform with Black Stat Energy customers has the flexibility to meet the diverse needs of customers with different pricing schedules.
3rd prize: accumulated power generation category (off grid, Nigeria)
SolarCreed provides poultry farmers in Nigeria with solar-powered lighting solutions to replace fossil fuels that account for almost 30 per cent of farm running costs. Packages that contain solar panels, long lithium-ion batteries and LED lamps can provide up to 10 hours of lighting.
3rd ex-equo award: RWANDA WATER ACCESS (Access to water category, Rwanda)
Water Access Rwanda has developed a solar kiosk for the distribution of drinking water. The answer has been based on water treatment and distribution plants of the name "INUMA", which is powered by solar energy and has a powerful filtering system. INUMA cios can serve 2,500 people with purified and pesticide water. In addition, the INUMA kiosk is also a sales point for products and services that have been adapted to local needs (sanitary products, filters and chlorine products, telecommunications services, savings and microfinance systems).
The wonderful award: OUR AGRICULTURE, (Access Category to Water, Cameroon)
Having specialized in aquaponics (a form of aquaculture that combines planting plants to fish farming), the start has developed packages that allow individuals and professionals to use fish pipes as a fertilizer on for growing fish. organic vegetables. Waterproof aquaponics containers, only 10% of water they use are compared to traditional agriculture, reduce the amount of waste in 90% fish ponds and delete # 39 ; r use of chemical fertilizers.
Growth support
The four winners have won awards ranging from € 5,000 to € 15,000, as well as full support, including:
• executive and financial advice
• project development partnerships with local players such as "Energy Generation" (a dedicated incubation and training center to start the energy sector in Togo) and with EDF specialists, especially through its Pulse Growth EDF subsidiary
• access to the EDF innovation ecosystem: EDF Research and Development and internal creativity laboratories,
EDF Press Africa: a unique approach
EDF is developing low carbon energy solutions in Africa in contributing to the electrification of the continent. With the Pulse Africa EDF Awards, EDF wants to support the entrepreneurial dynamic in Africa with two objectives:
• Identify potential partners by discovering the technological nuggets of the continent
• Support innovation through involving local entrepreneurs in developing innovative proposals
The EDF Pulse Africa initiative in line with the prices of EDF Pulse, which have since launched in 2012 has already enabled the appearance and support of 1500 innovation projects run by organizations starting in France, the United Kingdom to France in Italy
Marianne Laigneau, Executive Director of the Group responsible for International Management and the Chairman of the Jurist EDF Pulse Africa, said: "The success of this second edition of the EDF Pulse Africa Awards confirms the attraction of the support approach offered by EDF. The incredible wealth of the candidate projects reveal the potential of African youth entrepreneurial, horrible, innovative and perfect in keeping with the challenges of its continent We are proud to encourage these inspirational initiatives, which will be part of the energy solutions & Part of our dynamic portfolio of activities in Africa ".
Zoom on Lono, laureat edition 2017
LONO Project : the start of Ivorian that transforms organic waste visibly for cooking fuel and biomethan for electricity generation.
Thanks to the support of EDF Pulse Africa, LONO has successfully completed the first functional version of Kubeko's "micro-biomass digital" for rural populations. The company is now preparing to launch the product pilot phase in six sites. Through new partnerships and diversifying their activities, the induction team has succeeded in creating revenue to build an executive team of 9 people. It will be completed soon by an advisory intervention, funded by EDF and co-ordinated by Energy Energy, to stabilize the LONO legal activity framework, a real challenge to use its products and large-scale services.
Partnership with Energy Generation
Partner EDF Pulse Africa, the Pan-Africa organization, Generating Energy ensures the continuity of long-term projects, especially by offering them essential training and equipment to develop their entrepreneurial projects. Founded by the African entrepreneur of Astria Fataki in 2016, Energy Generation works for multi-veterinary rural areas in sub-Saharan Africa by training young people in entrepreneurship and energy trades.