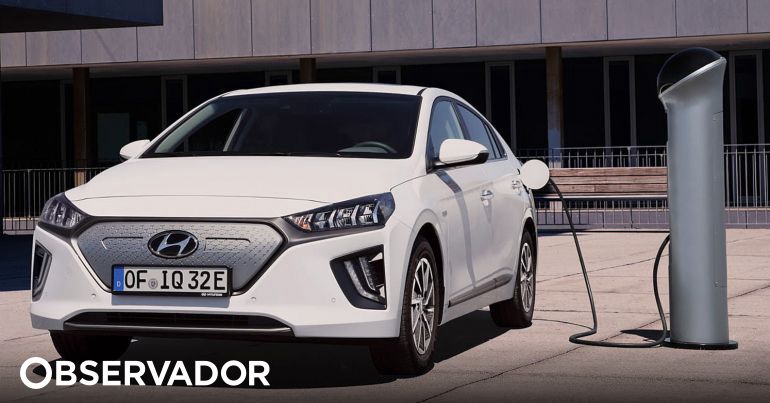 [ad_1]
The Ioniq was the first Hyundai electric vehicle for sale in Europe, where it was surprised by the smaller usage. However, the battery capacity – only 28 kWh – was quickly outdated by the competition, which limited its potential to sell.
Finally, after he introduced the Kauai electricity, South Korean builder understood that the time had come to review the Ioniq's situation. It started by giving a few touches to the aesthetic, to make a difference, and the most important – and interesting – change was to adopt a battery with 38.3 kWh, that is, another 10 kWh of capacity, which will make wonders to your autonomy.
Although the Ioniq is available in the hybrid versions, a hybrid plug-in and 100% electricity, the last that benefits most at this light weight replenishment, as the independence between repayments is now 293 km, the value of our record is not much more interesting – and competitive – than the previous one, which will certainly confirm in terms of sales.
The internal charging system, when plugged in, has also been updated, with the charger being transferred from the original 6.6 kW to 7.2 kW. However, Hyundai's biggest problem is not a battery problem or independence, or at least its electricity, but rather low battery production. Hyundai, which does not produce cells or packagesThe Kauai and Ioniq offer is an EV version, but it's not producing the amount that the market would like to buy, more so because the benefits are much more exciting than this t which is offered to vehicles.
Compare up to four, among all available cars in the market, side by side.
Try it now
function loginGoogle(){ gapi.load('auth2', function () { auth2 = gapi.auth2.init({ client_id: '439313482366-dvdj8tsff9tpi5csb410roen1r9g3m5q.apps.googleusercontent.com', cookiepolicy: 'single_host_origin', }); auth2.signIn().then( function (googleUser) { onGoogleSignIn(googleUser) }, function (error) { console.error(JSON.stringify(error)); })
}); } var reautorize = false; function loginFacebook(){ settings = {scope: ["public_profile","email","user_friends"],return_scopes: true}; if(reautorize){ settings["auth_type"] = 'rerequest'; } if(!document.getElementById("fbsdk")){ //If not loaded, load now, and return now var fbsdk = document.createElement("script") fbsdk.id ="fbsdk" fbsdk.src="https://connect.facebook.net/pt_PT/sdk.js#xfbml=1&version=v3.2&appId=1388666054753245&autoLogAppEvents=1" fbsdk.setAttribute("onload","loginFacebook()") document.body.insertAdjacentElement("beforeend",fbsdk) return; } //if the function did not returned early, it means the script is already loaded FB.login(function (response) { if (response.authResponse) {
var res = response.authResponse; var s = res.grantedScopes.split(","); if(s.indexOf("email") < 0 || s.indexOf("public_profile") < 0 ) { reautorize = true; $("form").find(".error-text.general-error").html('Para prosseguir é obrigatório partilhar o seu endereço de email. Volte a tentar'); } else { // Get and display the user profile data*/ onFacebookLogin(response.authResponse.accessToken); } }else { console.log('User cancelled login or did not fully authorize.'); } }, settings); } [ad_2]
Source link