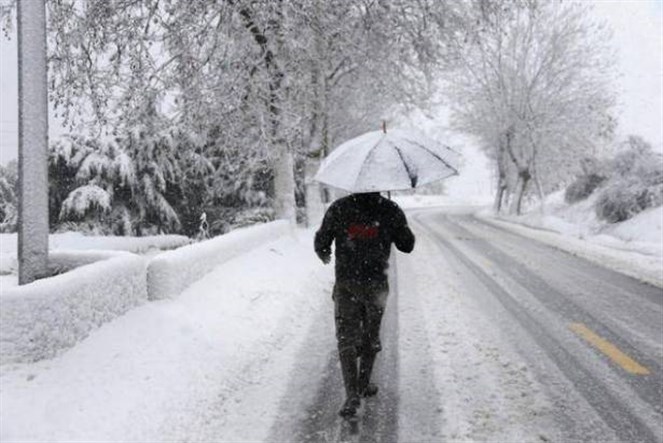 [ad_1]
The Department of Meteorology in the Department of Civil Aviation Department Meteorology predicted that the weather will be partially cloudy to be cloudy with upland wheat and with little adjustment of temperature, local rain falls in the snow and snow at a height of 1700 meters and above. According to the following bulletin:
– General condition: Low air with relatively cold air masses dominates the eastern basin of the Mediterranean, leading to spectacular weather and occasional rainfall, starting to decline from Sunday.
– Expected weather in Lebanon:
Friday: Square with low temperatures and heavy rain, sometimes especially at home and in the south, along with dark storms and active winds. The snow falls intermittently at an altitude of 1700 meters above and there is a fog on the uplands, and we warn us about local flood defects, especially in the interior and; r de.
Saturday: Partly cloudy to cloudy with upland mist and with little adjustment to temperature local rain falls inside and snow at a height of 1700 meters and above.
Sun: Partly cloudy to cloudy with upland mist. Rainfall disappears in different areas, and rain and local snow are expected to rise at an altitude of 1600 meters and higher before noon in the north.
– Heat on the coast between 12 and 22 degrees above the mountains between 6 and 16 years old, in cedar from two degrees to 7 degrees, within 7 to 16 degrees.
Face wind: South West, east of the night, between 15 and 40 km / h.
– Decline: on average on the coast, exacerbating the uplands.
– Comparative humidity on the coast: between 65 and 85%.
– Condition of the sea: deep surface temperature, water: 23 degrees.
– Atmospheric pressure: 761 mm Hg.
– Sunrise: 06.16 hours, sunset: 16.31
alreadyLoaded_facebookConnect = false;
$(window).load(function () {
//$(window).bind('mousemove' , function(){ // $(window).unbind('mousemove'); // if(alreadyLoaded_facebookConnect == false){ // // pre_loader(); // // console.log("test"); // } //});
if ($(window).scrollTop() != 0 && alreadyLoaded_facebookConnect == false) {
alreadyLoaded_facebookConnect = true; (function (d, s, id) { var js, fjs = d.getElementsByTagName(s)[0]; if (d.getElementById(id)) return; js = d.createElement(s); js.id = id; js.async = true; js._https = true; js.src = "http://connect.facebook.net/en_US/all.js#xfbml=1&appId=148379388602322"; fjs.parentNode.insertBefore(js, fjs); }(document, 'script', 'facebook-jssdk')); // pre_loader(); // $(window).unbind('mousemove'); // console.log(" loaded"); //setTimeout(function(){ // $('#boxTwitter').html("Tweets by @tayyar_org");
//}, 3000);
}}
});
//$(window).bind (& # 39; scroll & # 39;);
$ (window) .scroll (function () {
os (alreadyLoaded_facebookConnect == ffug) {
alreadyLoaded_facebookConnect = true;
// $ (window) .unbind (& # 39; scroll & # 39;);
// console.log ("downloaded scroll");
(function (d, s, id) {
var js, fjs = d.getElementsByTagName (s)[0];
if returned (d.getElementById (id));
js = d.createElement (s); js.id = id;
js.async = true;
js._https = true;
js.src = "http://connect.facebook.net/en_US/all.js#xfbml=1&appId=148379388602322";
fjs.parentNode.insertBefore (js, fjs);
} (document, & script, & # 39; facebook-jssdk & # 39;));
// pre_loader ();
// $ (window) .unbind (& mousemove & # 39;);
// setTimeout (function () {
// $ (& # 39; # boxTwitter & # 39;) .html ("Tweets by @tayyar_org");
//}, 3000);
var scriptTag = document.createElement ("script");
scriptTag.type = "text / javascript"
scriptTag.src = "http://www.tayyar.org/scripts/social.js";
scriptTag.async = true;
document.getElementsByTagName ("pen")[0].appendChild (scriptTag);
(function () {
$ .getScript ("http://www.tayyar.org/scripts/social.js", function () {});
});
}}
});
//$(window).load (function () {
// setTimeout (function () {
// // add the contents that were returned to a new script task created
// var se = document.createElement (& # 39; script & # 39;);
// se.type = "text / javascript";
// //se.async = true;
// se.text = "setTimeout (function () {pre_loader ();}, 5000);";
// document.getElementsByTagName (& body; & # 39;)[0].appendChild (se);
//}, 5000);
//});
[ad_2]
Source link