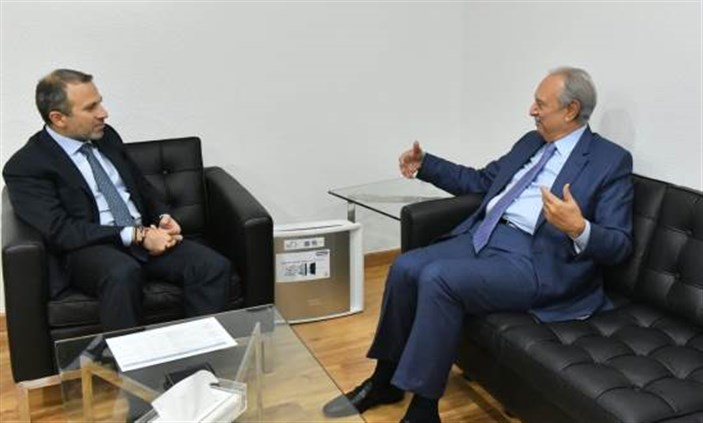 [ad_1]
The Minister and former MP Mohammed Safadi visited this afternoon, head of the Free Patriotic Movement, Minister for Foreign Affairs and Migrants in the caretaker government, Gibran Bassil, and discussed with the general situation , especially the formation of government.
In an interview with journalists, Safadi said that "all current efforts help to shape government, and we all ensure that the agreement is reached and that the government is born as soon as it is way, and every person and party has their potential to communicate with the parties involved to come to a reply. Everyone wants government. "
Regarding the possibility of being represented in the government, Safadi said "the most important thing to make the government and then who is not important."
He hoped that "Bassil Minister's efforts were positive," expressing optimism "as long as there were clear hearts towards government formation."
Minister Bassil AS Adnan Trabelsi also received, along with the Representative of the Charity Projects Association in Tripoli Tahili Taha Naji, former MP Mansur Al-Bon, as well as a delegation of Um El Nour, Nosroto-Anashid, Anti-Narcotics Youth, Submitted by the Archbishop Guy Boulos Najim and Tad Marwan Ghanem.
alreadyLoaded_facebookConnect = false;
$(window).load(function () {
//$(window).bind('mousemove' , function(){ // $(window).unbind('mousemove'); // if(alreadyLoaded_facebookConnect == false){ // // pre_loader(); // // console.log("test"); // } //});
if ($(window).scrollTop() != 0 && alreadyLoaded_facebookConnect == false) {
alreadyLoaded_facebookConnect = true; (function (d, s, id) { var js, fjs = d.getElementsByTagName(s)[0]; if (d.getElementById(id)) return; js = d.createElement(s); js.id = id; js.async = true; js._https = true; js.src = "http://connect.facebook.net/en_US/all.js#xfbml=1&appId=148379388602322"; fjs.parentNode.insertBefore(js, fjs); }(document, 'script', 'facebook-jssdk')); // pre_loader(); // $(window).unbind('mousemove'); // console.log(" loaded"); //setTimeout(function(){ // $('#boxTwitter').html("Tweets by @tayyar_org");
//}, 3000);
}}
});
//$(window).bind (& # 39; scroll & # 39;);
$ (window) .scroll (function () {
os (alreadyLoaded_facebookConnect == ffug) {
alreadyLoaded_facebookConnect = true;
// $ (window) .unbind (& # 39; scroll & # 39;);
// console.log ("downloaded scroll");
(function (d, s, id) {
var js, fjs = d.getElementsByTagName (s)[0];
if returned (d.getElementById (id));
js = d.createElement (s); js.id = id;
js.async = true;
js._https = true;
js.src = "http://connect.facebook.net/en_US/all.js#xfbml=1&appId=148379388602322";
fjs.parentNode.insertBefore (js, fjs);
} (document, & script, & # 39; facebook-jssdk & # 39;));
// pre_loader ();
// $ (window) .unbind (& mousemove & # 39;);
// setTimeout (function () {
// $ (& # 39; # boxTwitter & # 39;) .html ("Tweets by @tayyar_org");
//}, 3000);
var scriptTag = document.createElement ("script");
scriptTag.type = "text / javascript"
scriptTag.src = "http://www.tayyar.org/scripts/social.js";
scriptTag.async = true;
document.getElementsByTagName ("pen")[0].appendChild (scriptTag);
(function () {
$ .getScript ("http://www.tayyar.org/scripts/social.js", function () {});
});
}}
});
//$(window).load (function () {
// setTimeout (function () {
// // add the contents that were returned to a new script task created
// var se = document.createElement (& # 39; script & # 39;);
// se.type = "text / javascript";
// //se.async = true;
// se.text = "setTimeout (function () {pre_loader ();}, 5000);";
// document.getElementsByTagName (& body; & # 39;)[0].appendChild (se);
//}, 5000);
//});
[ad_2]
Source link