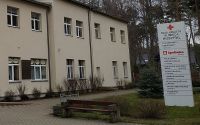 On October 28, a large-scale spread of Covid-19 virus was detected at Saulkrasti Hospital, and as a result at least 26 people, including 10 employees, are infected. According to Santa Ancāne, board member of PSIA "Saulkrasti Hospital", in response to this crisis, decisions have been made to close the day hospital and trauma center between October 29 and November 9.
According to the municipality of Saulkrasti, to ensure that services are provided to others who need medical care or consultations, observing all security measures, Saulkrasti's polyclinic will continue to operate, where GPs and specialist doctors will be received after the appointment previous.
Hospital managers have identified most of the contacts asked to take the Covid-19 test in collaboration with the Center for Disease Prevention and Control. Patients who have visited the Saulkrasti Hospital trauma center or surgeon consultations in the period 23 to 26 October are particularly invited to apply. Covid-19 information phone: 67387661 on working days, between 8.30 and 17.00 (break between 12.30 and 13.00). Saulkrasti hospital administration reference phone: 67952700.
Due to the variety of services, Saulkrasti Hospital has had a very large flow of clients, which was probably the main reason why the hospital is exposed to particular risks, the county council points out. Despite the security measures taken by the hospital in accordance with the directions of the Ministry of Health and the National Health Service, the decision was made to conduct Covid-19 testing on all staff and patients after receiving information about one client Social Care home is infected.