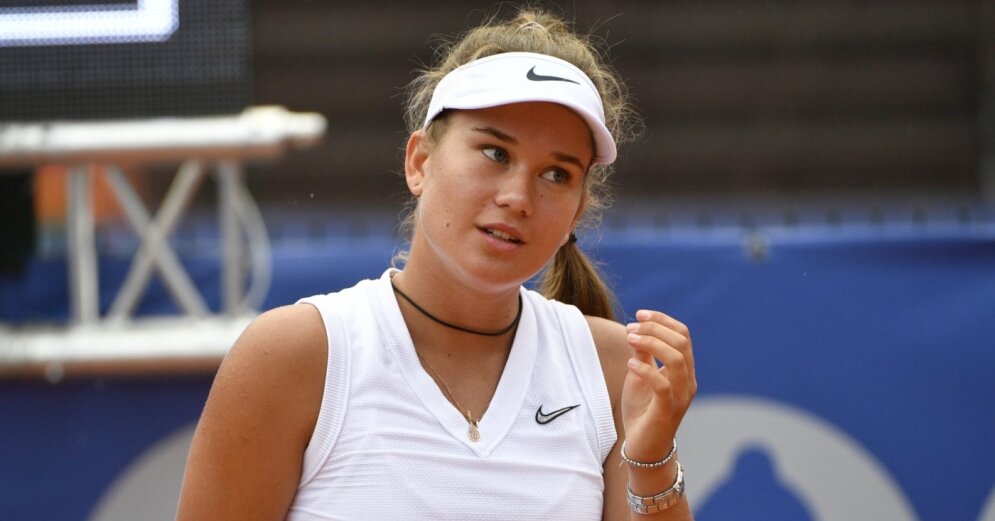 [ad_1]
Latvian tennis player Kamilla Bartone won the Hābnese W15 tournament in Estonia on Sunday, winning her first International Tennis Federation (ITF) title.
Content will continue after the ad
Advertising
In the final, Bartone (WTA 912) defeated Dutchman Judith Visher (WTA 745) with the result 6-3, 6-4.
For winning the tournament, he won ten WTA singles points.
Bartone announced in the winter that he was looking to acquire German citizenship to represent the country's future team. There is currently no official information on whether the tennis player has changed her nationality, but she is still participating in international tournaments as a Latvian athlete.
Bartone, who reached the age of majority this summer, is the champion of last year's "US Open" junior doubles tournament.
It had already been reported that Bartone had overcome the qualification before, but in the first round with a 6-2, 6-0 defeated the keep house Helena Narmontas, which started with the special invitation of the organizers and cannot be found at the WTA site. In the second round, German tennis player Nastasia defeated Marian Schunk (WTA 943) 6-1, 6-4, but in the final quarters, British tennis player Emilia Eplton (WTA 682) defeated 6-2, 6-4 in the final quarters.
In the semi-finals she faced the second racket of the tournament Daniela Vismane of Latvia (WTA 506), beaten with the result 6-3, 6-1.
Margarita Ignatieva (WTA 954) did not win the first round of singles in the same tournament. In doubles, the three Latvian tennis players stopped in the first round.
The content or any part of the publication is a protected copyright object within the meaning of the Copyright Law, and its use is prohibited without the publisher's permission. Read more here.


[ad_2]
Source link