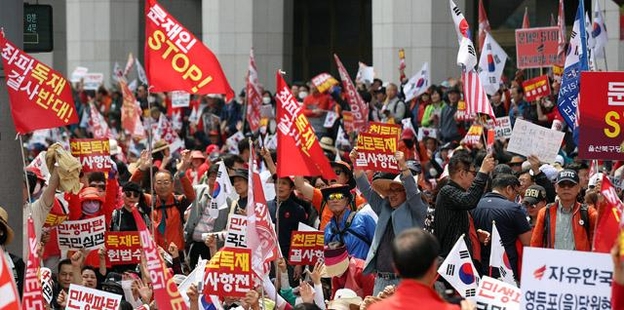 [ad_1]
Input 2019.05.04 13:59
| Review 2019.05.04 14:00
Over 50,000 people attended … 20,000 in the first, 50,000 in the second
A free Korean party held a rally outside the court in front of Sejong Cultural Center, Jongno-gu, Seoul, at 1:00 pm on April 4, with the title of Moon Jae t -in Stop! On the 20th of last month, our first out-of-office rally was held, and this is our third rally outside the office after 27th of last month. In addition, the four-party talks were held for the first time after the law on electoral law, the police service, was attended by 50,000 people (estimates from South Korea, 15,000 of which were reported). Police were expecting 15,000 people in advance. The estimated Koreans was 20,000 on the 20th of last month and 50,000 on the 27th of last month.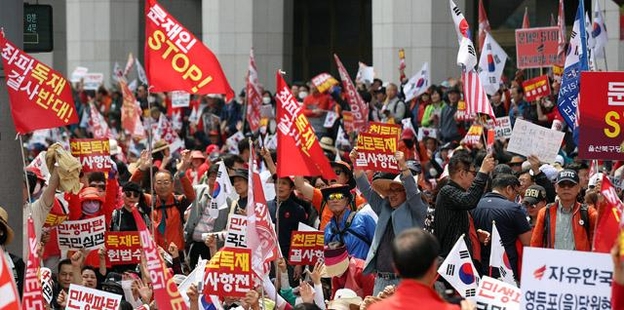 Hwang, who held a "battle" around Daejeon, Daegu, Busan, Gwangju, and Jeonju said in the last 2-3 days, "Before attending the meeting held in front of Sejong Cultural Center on the day, I will fight against lies the president. "He said in a post on Facebook on the day," I continue to pursue the lives of people in the nation, even in the fight against Jae-in Moon government. " The system is now urging us to stop the fight over the fast forces are unaware of our path to deliver new hopes to the people, "he wrote. T
Hwang said, "There was resistance from some members of the group, but the voice of the general citizen of Gwangju was the same." In response to a protest GNP and Gwangju protest in front of Songjeong station in Gwangju, I will go to the scene to meet the people, not to mention Gwangju's voice. "
The Korean government announced to members of the party on the first and second rounds of the rally that they should wear red (red) clothing. On this day he asked me to wear my own dress. However, the location in front of Sejong Cultural Center was still wearing a red top, revealing its identity. Members of the party listened to a paper which included the phrase "anti-dictatorship of the dictatorship" and "rebutting the nationals who conquered national people." In each of the first and second OTC meetings, each of the Big National Parties (KTAs) listened to a sign, but most of the day was replaced by a banner that didn't have a wind with she.
The KCTU published a leaflet for members of the party and citizens who took part in the rally on 26 October, saying, "Let's stop dictatorship of the sentimental economy from breaking down!" On the night of 26th, the special committee for judicial reform I also gave a picture in front of the legislators lying and blocking them. In this leaflet, the Korean party said, "The law of the election rule the game." President Moon Jae-in said that he had never been pushed than to appoint on one side, a dictatorship rule has fallen to the dictatorship rule. "
[ad_2]
Source link