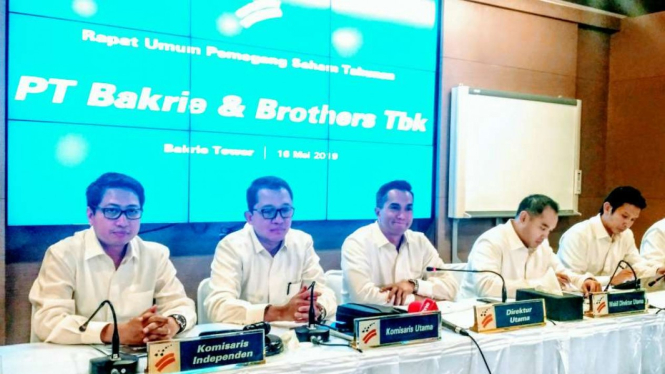 [ad_1]
VIVA – PT Bakrie & Brothers Tbk or BNBR, reported several important financial indicators which showed positive directional growth throughout the 2018 financial year.
Director BNBR, Bobby Gafur Umar, explained that for 2018, the company's net income increased by 35.8 per cent compared to 2017 performance, to Rp3.34 trillion.
"This is due to the increasing demand for the company's products in the manufacturing sector, especially steel pipe products and automotive components," said Bobby in Kuningan, South Jakarta, Thursday, May 16, 2019.
EBITDA then recorded the company in 2018 a positive amount of Rp353 billion, compared to the previous year recorded negatively. The value of all assets is known to increase in 2018, because the process of locating short-term investments whose sources of funding come from loans has been restructured.
At the end of 2018, Bobby continued, the company was also able to post positive equity, as well as completing a restructuring of a proportion of the company's debt by converting debts, by distributing new shares and OWK to creditors.
This is done through the PMTHMETD mechanism, in accordance with the provisions in POJK No. 38 and the BEI Listing rules, as well as other applicable laws and regulations.
"Gradually and steadily, we can improve and improve BNBR's performance. The debt burden is falling steadily, the value of assets is increasing, business unit performance is improving. This will be a good provision for Mr Anindya. and Mr. Ardi Bakrie continued, "he said.
BNBR's Annual General Shareholder AGM has approved the appointment of Anindya Novyan Bakrie as Managing Director, replacing Bobby Gafur Umar who has been in post since 2002.
The meeting also approved the addition of one director in the company's leadership, Roy Hendrajanto M. Sakti, and the appointment of Sutanto as President of the Company's Independent Commissioner and Commissioner.
Through GMS Extraordinary in April 2018, Anindya Bakrie was appointed President of BNBR Commissioner together with the appointment of Anindra Ardiansyah Bakrie as Deputy Managing Director.
Through AGMS May 2019, Anindya Bakrie was appointed Managing Director and CEO of the end, and Bobby Gafur Umar was appointed to serve as Commissioner.
Commissioner:
The Commissioner's President and the Independent Commissioner: Sutanto
Independent Commissioner: Firmanzah
Commissioner: Bobby Gafur S.Umar
Commissioner: Armansyah Yamin
Directors:
Managing Director and CEO: Anindya Novyan Bakrie
Deputy President Director: Anindra Ardiansyah Bakrie
Director and Chief Legal Officer: R.A. Sri Dharmayanti
Director and Chief Financial Officer: A. Amri Aswono Putro
Independent Director and Chief Risk Officer: Dody Taufiq Wijaya
Director and Chief Investment Officer: Roy Hendrajanto M Sakti
[ad_2]
Source link