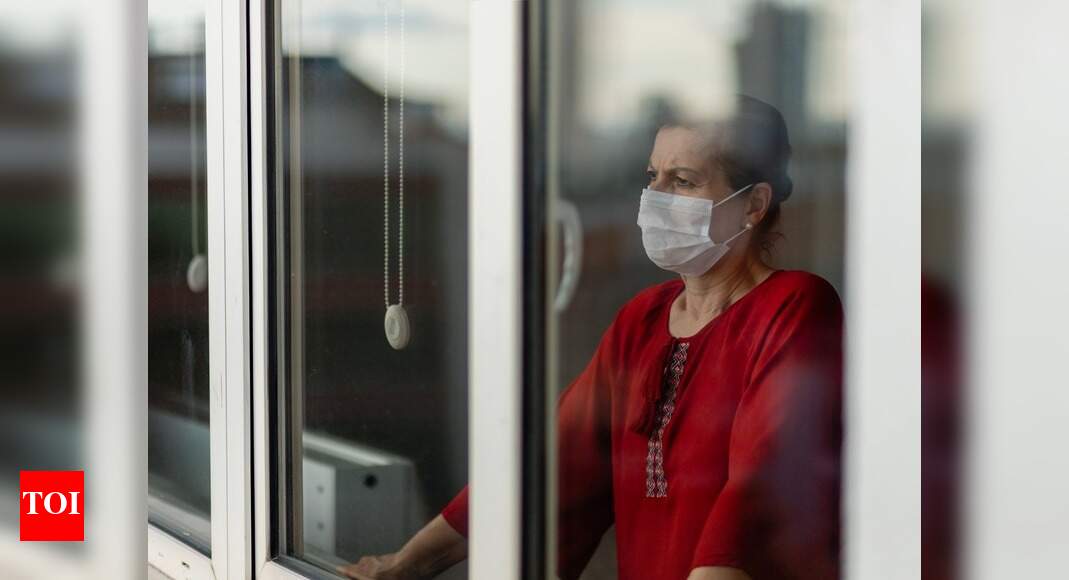 [ad_1]
COVID-19 carries the most complications for older people. KK Pandita experienced this firsthand when his parents were affected by COVID-19, both of which have co-morbidity. Not letting his concerns get the better of him, he took isolation measures and turned his house into a healthcare center. Read his story to know the importance of recognizing early signs of trouble and remedial measures that should be taken.
On 26 September 2020, my 79-year-old mother occasionally complained of anorexia and weakness over the past few days. The next day, when giving her pre-dinner insulin, my 19-year-old son found her to be febrile to touch. Her body temperature, verified verbally, was 101.4 degrees Fahrenheit. Investigating other symptoms, she revealed that she felt restless the previous day and relieved by vomiting the food she had ingested. He denied any complaint of breathlessness and coughing, though my son heard her coughing inside the bathroom. He said that was trivial. Given the ongoing COVID-19 pandemic, I isolated it into one room and my 86-year-old dad to the other room on the ground floor of our house. The rest of the family —— my wife a radiologist, a 14-year-old daughter, and a son — moved to the first floor. We rendered the whole house airy by keeping all windows and door shutters open, keeping all exhaust fans and ceiling fans on and switching off all air conditioners. My wife and I were wearing face masks and protective goggles all the time while working in the kitchen on the ground floor. When paying attention to my parents, I also wore a face shield, cap and gown. The following day, a private lab technician took nasopharyngeal swabs and blood samples from my parents. Reports were ready by the 30th morning (table). Both parents tested positive for RNA SARS Cov 2 by RT PCR. Now I was keeping both in the same room. Communicating with them remotely wearing a face mask was a frustrating experience, as both had hearing disabilities. To alleviate this frustration, I tried to communicate with them over the phone on some occasions. My father, a COPD stable patient, said the cough had recently worsened. My mother's general condition worsened. He complained of intense fatigue, marked anorexia, and a strange unpleasant symptom of "my stomach is shrinking." She was vomiting every day. Its SpO2 was 86-88%. She denied that she had shortness of breath. His past history was remarkable for a few long-standing diseases: Type 2 Diabetes mellitus (taking 12-16 units of Insulin daily); Hypertension (on Telmisartan 80mg, Chlorthalidone 12.5mg, Amlodipine 5mg daily); Paroxysmal Atrial Fibrillation (on Amiodarone 100mg daily); Amiodarone-related hypothyroidism (on Levothyroxine 37.5 mcg daily); Rheumatoid arthritis (on Prednisolone 1-2.5mg, Leflunomide 20mg, Hydroxychloroquine 400mg daily); Neurogenic bladder and sacral anesthesia due to stable discogenic lower cord myelopathy. My mother pleaded with me not to admit her to hospital. I decided to manage them at home. The fear of contracting COVID-19 was so high in society that all my known paramedic colleagues expressed their inability to help me insert an intravenous (IV) cannula and administer parenteral medications. For the last 20 years I had been out of practice, since my days of residence, in carrying out these important tasks. With my mentor's telephonic encouragement, I secured the IV lines and administered Remdesivir1, Dexamethasone, and intravenous antibiotic and Enoxaparin daily between 30 September and 4 October. I gave Oxygen therapy to my mother through a nasal cannula and kept her SpO2 between 92-95% 2, prompting her to lie in a supine position. During the day, I nursed them in the open veranda of the house (Photo), believing that the chance of catching the infection in the open space was limited.3 During the night, they both went back to their room , where my less ill father was nursing. my mother. After two days of starting treatment, the mother became afebrile. His other symptoms — drowsiness, lack of list, "stomach ache" —- did not improve much. She would get irritated while I forced her to eat. She continued to puke daily. On October 6, her condition worsened. He became restless, complained of a central chest ache, and vomited. She couldn't pass urine. Her blood pressure dropped to lower than normal. Her pulse was irregular, indicating Atrial Fibrillation. I transferred her to the hospital, and she reluctantly agreed. The cardiologist confirmed AF from Echocardiography and ECG. Her same-day chest HRCT showed bilateral resolution of atypical pneumonia of moderate severity. (Photo) By the same evening, I got her back home. By glucometer, she had marked hyperglycemia with a blood sugar of 438 milligrams per decilitre. I gave IV fluids, persuaded her to take oral fluids, and gave her subcutaneous insulin every 4 hours, almost like following the DKA Montefiore protocol.4 By late night her blood glucose was reaching below 200 mg per decilitre, she was passing urine , her pulse was regular, and she could sleep well. He established, but his vomiting and intestinal symptoms persisted. In reviewing the COVID-19 literature, I noted that 10% of patients with this disease had clinically only bowel involvement with small bowel segmental dilatation and stenosis.5 I gave her oral Domperidone, a gut prokinetic, three times 10 mg a day with only and a dense liquid diet. Her vomiting ceased. On the 3rd day of this new regimen, he started demanding solid food. From 12th October, its SpO2 maintained between 93-96% when breathing ambient air. She revealed that she has "foggy consciousness" all these days. He could patchily remember the events in the wrong timely order. None of the others in the household developed COVID-like symptoms, and my wife and I tested negative for Coronavirus. It was challenging to maintain the best possible care for COVID-19 patients while protecting the other members of the household. After more than three weeks of onset of the disease, the mother was still testing positive for SARS Cov 2 RNA.
Learning experience:


Intestinal symptoms can be the predominant symptoms of COVID-19 disease. These require separate symptomatic treatment.

COVID-19 sick patients, who do not require ventilation assistance, can be cared for if local governments organize and utilize available human health care resources in areas. That's not my gut feeling, but my experience.

Did you fight COVID-19? We want to hear all about it. ETimes Lifestyle is calling on all COVID survivors to share their stories of survival and hope.
Write to us at [email protected] with 'My COVID story' in the subject line.
We will publish your experience.
The views expressed in this article should not be considered as a substitute for a doctor's advice. Please consult your treating physician for more details.
[ad_2]
Source link