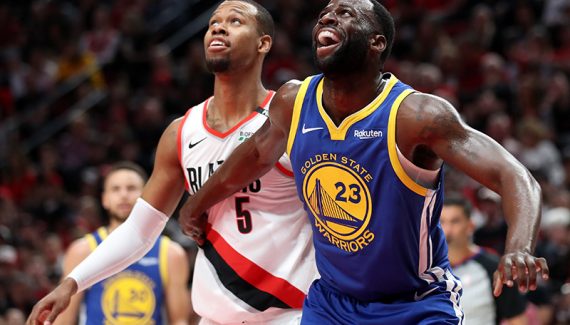 On Draymond Green shoulders (20 points, 13 rebounds, 12 assists), in triple doubles, the Warriors gave a lesson again in reality to Blazers too soft in the second half. Stephen Curry (36 points) and Cie are now one of the Finals!

Back in front of their audience, the Blazers start well with Damian Lillard and CJ McCollum scoring from a distance. Stunned by Andrew Bogut, Damian Jones gets three brothers in three minutes and Portland makes the first break (12-5). Meanwhile, Leonard Meyers, who is also driven into the top five, answers the call with five points. The Warriors like Stephen Curry's air ball aren't really turning our tangible bass to Klay Thompson.
Finally, the leader of the Warriors breaks the ice with 3 points after seven minutes of playing. It allows Golden State to come back to -3 and is starting to find feelings with another shot in the step back. Despite a clear advantage of aggression, Portland is only two points ahead of the first quarter (29-27).
Draymond Green allows the Gold State loitering
After scalding by several bad whistles already, the Moda Center is screaming a scandal early in the second quarter when Jonas Jerebko is fighting heavily on Zach Collins. An obvious dirty (level 1) whistles and Portland gets the upper hand with the gap that went up to +7 under the stimulus of Enes Kanter. In the face of the second knives, the Turk made a murder and when Evan Turner scored 3 points, the gap grows to +13. Quinn Cook enjoys an advantageous position but the wind is completely in favor of Rip City, 18-7 to open the second quarter.
After Enes Kanter, this is a very good Leonard Meyers who come back to get 13 points to shoot 5/7, including a large dunk along with a lack of Draymond Green.
Stephen Curry and Draymond Green try to relocate their soldiers, but Seth Curry picks his brother's leather again before making a 3 point transfer. The Warriors are in the ropes but they stick to their strong winger who lifts every chance, even on the basic shifts, and even lists a basket in the breaker (66-53) t ). After spraying in -13, the Dubs could have gone a lot further without interiors, 14 points, 5 rebound and 5 helped.
Third quarter syndrome
To catch it briefly in the first two rounds in the third quarter, Portland is warned … but that's not stopping! CJ McCollum takes two fast access bays, and if he shoots after him, Steph Curry starts the business for his team with a 3-point basket, as well as the dirty (but not the throw). Damian Lillard and Meyers Leonard keep Blazers in front, but Golden State is on the way back with Klay Thompson straddling two baskets. In particular, Draymond Green continues to push the leather at every opportunity and there is a Portland defensive retreat on the street!
Jordan Bell loses a dunk on his own with one hand, but on the next he doesn't take a risk with both hands! Golden State passes at the end of 18-3, while Draymond Green already reaches the triple double at 18 points, 10 rebates, 10 helps. Stephen Curry adds a new remote shot and Portland money is actually 22-6. On 5/18 on fire, all the Tasters were beaten by Curry – Thompson duo, 17 points to two! The 3rd quarter syndrome has been checked: 29-13 for Golden State which has ironed in front (82-79) … t
Zach Collins scored a 3 point point to start the fourth but Damian Lillard is still as good. And Lady begins to force, for 3/14! Without direction, 5/17 to 3 points since the first quarter, the Blazers obviously showed signs of weakness with far too many shots left on the road.
Steph Curry continues his festival in the final quarter. It's a monopoly coverage of protection but it's still adding 11 points to its total. Damian Lillard scored 3 big pointers to return to -8 for four minutes but misleading him on the next stage will stop the short time. The Warriors hold their end of the game without shaking and winning for the third consecutive victory (110-99). Portland has cracked again in the second half and is about to be scrapped!
Flowers & Path

/

99
shots
rebounds
players
low
shots
3 points
LF
off
def
Tot
Pd
loss
Int
bp
Ct
point
eval
Mr Leonard
31
6/12
3/7
1/1
0
3
3
4
4
0
0
0
16
17
A. Aminu
13
1/2
0/1
0/0
0
7
7
2
0
0
1
0
2
9
Mr Harkless
26
2/5
0/1
2/4
1
2
3
2
2
2
0
2
6
10
D. Lillard
40
5/18
3/9
6/8
0
6
6
6
3
2
5
0
19
13
C. McCollum
38
7/20
2/10
7/12
1
2
3
5
4
2
1
0
23
14
Z. Collins
20
2/6
1/1
1/2
4
4
8
2
4
0
1
1
6
11
E. Kanter
7
3/7
0/0
1/2
2
3
5
0
0
0
0
0
7
7
E. Turner
17
5/6
1/1
1/2
1
2
3
1
0
1
2
0
12
13
R. Hood
17
1/3
0/1
1/2
0
0
0
0
2
1
0
0
3
1
S. Curry
30
2/6
1/4
0/0
1
2
3
0
4
1
1
0
5
4
total
34/85
11/35
20/33
10
31
41
22
23
9
11
3
99
Warriors

/

110
shots
rebounds
players
low
shots
3 points
LF
off
def
Tot
Pd
loss
Int
bp
Ct
point
eval
D. Green
38
6/12
0/1
8/9
1
12
13
12
3
4
2
1
20
41
D. Jones
3
0/0
0/0
0/0
0
0
0
0
3
0
0
0
0
0
S. Curry
37
11/26
6/16
8/9
0
6
6
3
3
0
5
0
36
24
A. Iguodala
18
1/5
0/3
0/0
0
5
5
2
2
1
0
0
2
6
K. Thompson
40
8/20
1/5
2/3
1
4
5
5
3
2
4
2
19
16
J. Bell
15
3/5
0/0
0/0
0
2
2
2
3
0
0
1
6
9
J. Jerebko
9
1/2
0/0
0/0
0
3
3
1
1
0
0
0
2
5
A. McKinnie
21
2/2
1/1
0/0
3
6
9
0
0
1
1
0
5
14
K. Looney
27
4/5
0/0
0/0
1
2
3
1
1
0
1
1
8
11
A. Bogut
3
0/0
0/0
0/0
1
1
2
0
1
0
0
0
0
2
C. Cook
11
3/4
0/0
0/0
0
1
1
0
2
0
0
0
6
6
S. Livingston
17
2/3
0/0
2/2
0
0
0
1
2
1
0
0
6
7
total
41/84
8/26
20/23
7
42
49
27
24
9
13
5
110