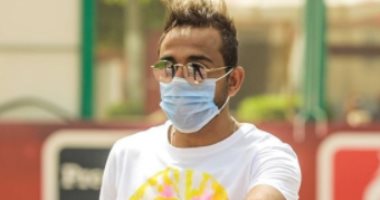 The result of the new swab performed by Al-Ahly club star Mahmoud Abdel Moneim Kahraba appeared yesterday, Saturday, and the result was positive, so that the player continued to fail his team's training, according to the medical protocol followed , and uses electrocution with drinks and fresh air to overcome the Corona virus in the isolation phase it is currently in. .
Kahraba posted a picture on his personal page on Instagram to expose him to the sun outdoors and said, "Good morning … the world is beautiful and full of people who love you. Go drink your drink, open the window and feel the sweetness of the world. "".
Al-Ahly club officials confirmed that Mahmoud Abdel-Moneim Kahraba, the team's player, is in good condition and does not suffer from any strong symptoms of the recently contracted Corona virus. Virus.
Al-Ahly will enter closed camp, starting from today, Sunday, immediately after the end of the evening team training, until next Friday, the upcoming Zamalek conflict date, to enforce a state of focus and to protect players from the Corona virus infection, which is spreading around the world this time.
Al-Ahly rose to the semi-finals of the Egypt Cup by beating Abu Qir with two goals for a goal during the match that brought them together tonight, Saturday, at the Burj Al Arab Stadium in the final of the Egypt Cup. Al-Ahly's double was scored by Walid Suleiman, while Curva scored no Abu Qir goal, so Al-Ahly met Al-Ittihad. Alexandria in the cup semi-final on December 1.
Al-Ahly's formation for the contest included: Muhammad Al-Shennawi. _Rami Rabia – Yasser Ibrahim – Arabi Badr – Mahmoud Wahid _ Walid Suleiman – Ahmed Al Sheikh – Hamdi Fathi – Geraldo – Ahmed Nabil and Ali Badji, all sitting on the bench bench, all: Mustafa Schubert, Muhammad Shukri , Abdel Rahman Ashraf, Faris Muhammad, Muhammad Magdi Afraf. And Hussein Al-Shahat, Ayman Ashraf, and Marwan Mohsen.
While the formation of the Abu Qir Fertilizers Team includes: Muhammad Talaat – Ibrahim Rayo – Mahmoud al-Malik – Hani Al-Sayed – Kamal Abu Al-Fotouh – Islam Nabil – Muhammad Al-Karrah – Muhammad Alaa – Mustafa Al-Khawaja – Kerva La and Alaa Shaaban.
Source link