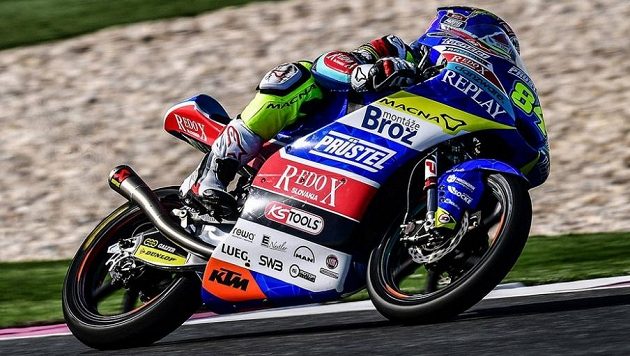 [ad_1]
The motorcycle rider Jakub Kornfeil took the seventh position in the Moto3 race in the Spanish Grand Prix three weeks after cutting the collar and scoring the best season. The Czech pilot was in the game for the podium until the last moment, he came third in the final, but failed after the mistake. However, the maximum this year was the tenth place in Qatar's opening Grand Prix. The second Czech driver did not finish Filip Salač the race.
Italian Niccolo Antonelli won the victory after three years and in his fourth career. The fourth place was enough to lead the Spanish Arón Canet championship, as leading countryman Jaume Masiá had collapsed. Kornfeil is sixteen after second place in the season.
Kornfeil, after being injured by the collapse of the previous American Grand Prix, was the best qualifying result at Jerez. After pulling off the twelfth position, he continued to a large lead group where the command was constantly flowing. At the end, he could think of the fifth medal in his career and the first since the Czech Republic's Grand Prix last year, where he was third. He also held the bronze position in the last knee, but a few places he couldn't take back too far too wide a corner.
Spanish Grand Prix, Jerez World Motorcycle Championship:
Moto3:
1. Antonelli (It./Honda) 39: 30,327,
2. Suzuki (Jap./Honda) -0,242,
3. Vietti (It./KTM) -0,305,
4. Canet -0,472,
5. Arenas (Sp. / KTM) -0,563,
6. Toba (Jap./Honda) -1,133,
7. Kornfeil -1,187,
… Salač (both CR / KTM) did not finish.
MS site (after 4 out of 19 races):
1. Canet 58,
2. Antonelli 57,
3. Mass (Sp. / KTM) 45,
4. Toba 41,
5. Dalla Porta (It./Honda) 40,
6. Vietti 36,
… 16. Kornfeil 15.
12:20 Moto2,
14:00 MotoGP.
[ad_2]
Source link