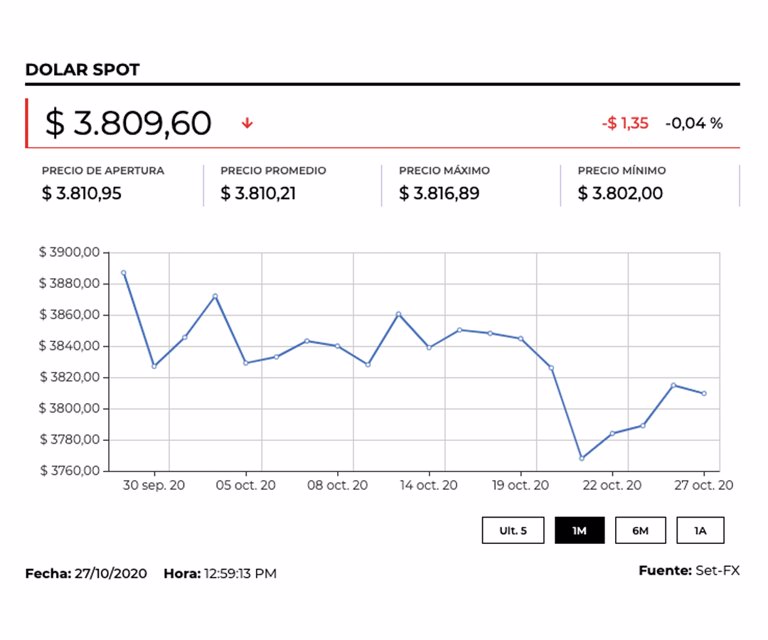 At 1:02 pm, the dollar reached an average price of $ 3,841.56, which represented an increase of $ 31.33 compared to the Representative Market Rate (TRM), which stood today at $ 3,810.23.
The currency opened the day with a price of $ 3,845 and at the end it was set at $ 3,830.50. The minimum price registered was $ 3,826.10 and the maximum was $ 3,854.90. The amount discussed was US $ 1 million in 1,528 transactions.
"Following news that the pharmaceutical company Pfizer is still unable to determine with certainty in trials how its COVID-19 vaccine protects people from infection, risk assets fell in all regions and markets," Reuters highlighted.
In addition to the uncertainty left by the Pfizer announcement on how to find an effective antidote against covid-19, the increase in new cases of covid-19 and the potential restrictions some governments would impose to include the propagation, as expected to happen in Germany and France in the afternoon.
In addition to what is happening in the old continent, "investors are preparing for sudden market moves, with the greatest focus on the United States, which is struggling to contain a second wave of the new coronavirus at a time when the presidential elections date is November 3, "Reuters detailed.
In the case of oil prices, both addresses registered discounts. WTI lost 4.85% to US $ 37.65 and Brent fell 4.10% to US $ 39.51, according to data shared by Bloomberg at 8:04 am
Oil prices were plummeting due to rising stocks in US oil inventories and the outlook for the pandemic. Both factors began to increase uncertainty about the future of investor demand.
Harry Tchilinguirian, an analyst at BNP Paribas, told Reuters "given the sharp rise in general stock in API figures, it's no surprise that crude price is falling this morning as we await the official EMU numbers this morning . late ".
Source link