The Ministry of Finance, General Administration Customs, General Administration of Taxation
No. 158 of 2018
To implement the spirit of the speech of Secretary General Xi Jinping on 30 years since the establishment of the special provincial economic zone in Hainan and "Central Opinion of the CPC Central Committee and the State Council on Supporting Hainan Enhance Reform and Open" , implement the most open and convenient tax-free shopping policy for peripheral island travelers In order to promote the construction of the Hainan International Tourist Use Center, Ministry of Finance, General Administration of Customs and State Taxation Administration, together with the relevant departments, have modified the content of the non-duty shopping policy for travelers of the remote islands of Hainan. Publishing the modifications is as follows:
1. Increase the annual tax-free shopping limit per person per day for remote island travelers (including residential passengers on the island) to 30,000 yuan, not limited to.
Secondly, increase home medical products, add vision training equipment, hearing aids, orthopedic installation equipment, home respiratory support equipment (livestock support) in the list of non-duty products on the outside islands, every person It has always limited to 2 pieces (see appendix).
3. This announcement will be implemented on December 1, 2018.
I will publish herein.
Annex: New list of non-duty goods for the remote islands
The Ministry of Finance, General Administration Customs, General Administration of Taxation
November 27, 2018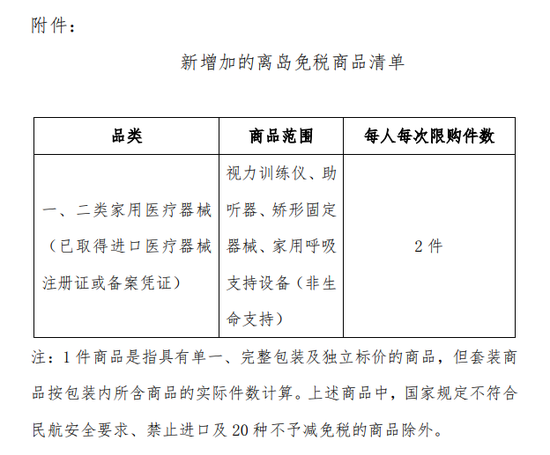 (Editor: Wen Jing)
Source link