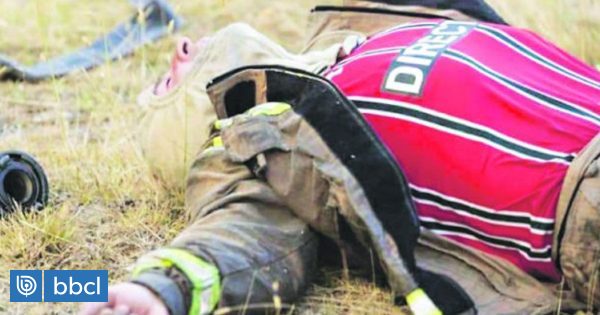 [ad_1]
Did you find a mistake?
tell us
Héctor Sáez
An image of a fireman went mentally into social networks during the forest fires that have affected the southern part of our country.
On it, it seems to be a firefighter who ends his job, turned off, wearing a T-shirt Colo Colo.
The postcard is staring Héctor Sáez, a firefighter from Pitrufquén, who revealed that after the image itself Mario Salas He called to congratulate him on his work.
"The issue of fires has been very strong here in the south, throughout the area of ​​the ninth region. For the same reason I'll work hard, but on Tuesday I had a call that made me He was coach of Colo Colo. He left me freeze, I did not think he would communicate with me to congratulate my work in the fires, "he told La Cuarta.
"He not only congratulated me, he also asked me about my work, he was worried about what fire men should do in this case and the situation of the flames. In fact, he was very kind "he added.
In addition, the fire man who Mario Salas revealed, for example, revealed to Colo Colo.
"He told me that what I have to do must serve as inspiration to Colo Colo, for the whole team. That should motivate them. In addition, she was very pleased to have colocolino in that crisis, because he reflected what the club fan was for the sacrifice that must be given. I was really surprised by everything that told me, "closed.
On the other hand, at a press conference, the "commander" revealed that the club had communicated with a firefighter and invited him to dine tomorrow before the University of Concepción at the Monumental.
"The club contacted them and we invite it to tomorrow's game. It was an image that moved us a lot and represented the spirit of Colo-Colo and its supporters, "he said.
Colocolino firefighters and firefighters: "The club contacted him and invited the game tomorrow, it was a moving image that was a great deal and represented the spirit of Colo-Colo and its supporters."

Follow the press conference on our Facebook Live: https://t.co/NeH8YyY29V

– Colo-Colo (@ColoColo) February 21, 2019
[ad_2]
Source link