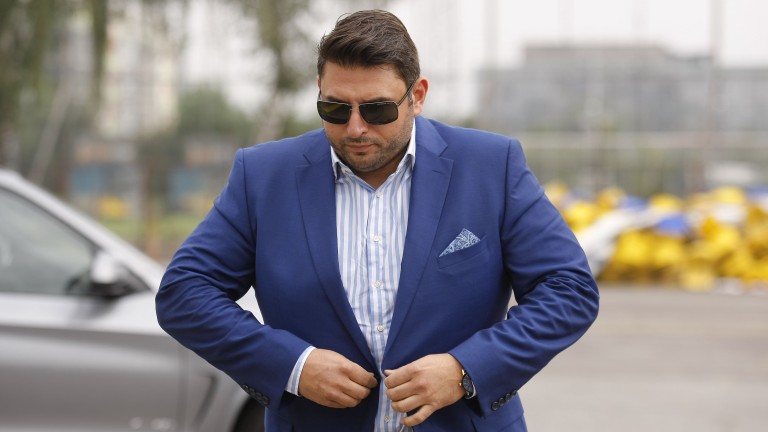 Todor Minev, head of Levski's marketing department, announced on his official Facebook page that he no longer fulfills the above management function at the club because his contract is to end.
He gave a full report on the work he and his team had done and promised to continue working on the development of the "blue" idea.
Here are the reasons, according to Minev, which led to his separation from Levski: t
Hello Levskari!
The time has come for me to report on the work I have done and my team, as I have been told that the contract with me and my company has ended.
I will not argue about the subject. The reason for the termination of the contract was presented as financial only. I accept what I do very seriously, and the fact that I do for my beloved team doesn't even do it, it was real fun. That is why I made a decision to prepare an incentive letter addressed to Nove Holding, where, apart from describing everything I have done so far, I suggested that I continue to do my job and continue to do what I do. I do against the symbolic amount of BGN 1 per month. Obviously, the reason I was introduced for my move from the job was not the one that I mentioned above. I was told that the new leadership would like to meet me to discuss ways I could continue working with each other, but for one month none of us could call me for a meeting of the company; r such. In addition, the access to social clubs of my club and the team came to an end, and we could not continue working even though I had the notice of termination of the contract.
In the light of this and the hundreds of questions I get about the club's social media dead activity, I would like to officially announce that I have withdrawn from PFC Director Levski's Marketing post!
I had promised to follow a very transparent policy in terms of the activity I am responsible for. I met many of you who were looking for me to ask marketing questions, but over time I saved a lot of information and my life, but reporting would lead to the name of the club name.
Here are a few words about our achievements. For the time I and my team were involved in marketing, we were able to create the following activities and results:
– Establish a line in the club's corporate identity, and for that purpose we have made a detailed beech brand with emblems, graphics and fonts.
– Increase social networking fans over 30% in a year against the background of what has already been done over the last 10 years. For some social networks, we have a growth of over 100% thanks to the innovative strategies we have implemented.
– Organize celebrations for each home game – "Matchday", which ultimately leads to a higher presence and additional financial benefits for the club. Only from food and drink at the moment the club receives over BGN 4000 in a normal game.
– Create a Lions Club T-shirt and a Blue Angels team that contribute to the atmosphere and presence of Match Day.
– Refurbish the fan shop completely by making it fashionable and complying with leading national club standards.
– Design product range of more than 150 fan articles.
– Create our own brand of beer that is liked and eaten by the whole Lefkara community.
– Raise the quality of TV productions Levski TV to the level of leading club teams in Europe.
– Create a number of successful initiatives like "Learning and Sports with Levski," where our mascot, "Lions", goes to different schools to invite children with their parents to visit games at the stadium.
– Create a VIP sector for families, unique for Bulgarian stadia, which aims to entertain children and parents.
We have fought our teeth and nails with the chaotic administration of the club to make all these things happen. I have funded 90% of the above all personally, as the marketing budget has never been 0 leva. To be able to broadcast quality content, I have invested over 7G BGN in Levski TV equipment. For reconstruction and modernization of the shop, which looked like a pharmacy of the 80s in the past, I have invested over 10,000 voices. I have invested over 6000 voices for 12 months in levski and blue levies.
During this time, I did not even get my contract fee. Here's the order to thank Pavel Kolev and the team from Nove Holding for their accuracy and paying all the amounts due on the contract in question.
The love of the team and what I am doing has made me develop further in a direction that would be useful for my job. I and part of my team are registered in the Barcelona Football Club Curriculum for "Marketing and Sports Sponsorship".
Apart from this, in order to develop international relationships and gain inspiration and inspiration from overseas teams, we have had a number of meetings with marketing managers and directors from across Europe, starting in June with Mr. John. Damien Bot – Marketing Manager PSV Eindhoven.
I'm hoping to learn what I can learn even if not directly to the club and to develop in the right direction!
I thank all of you who have squeezed my hand and I congratulated me about what I do. I did that for you and I will continue to work for you to develop the blue idea in the next generations as well.
Fold in front of the whole blue audience!
Fold in front of Levski!
Respect!
Just Levski!