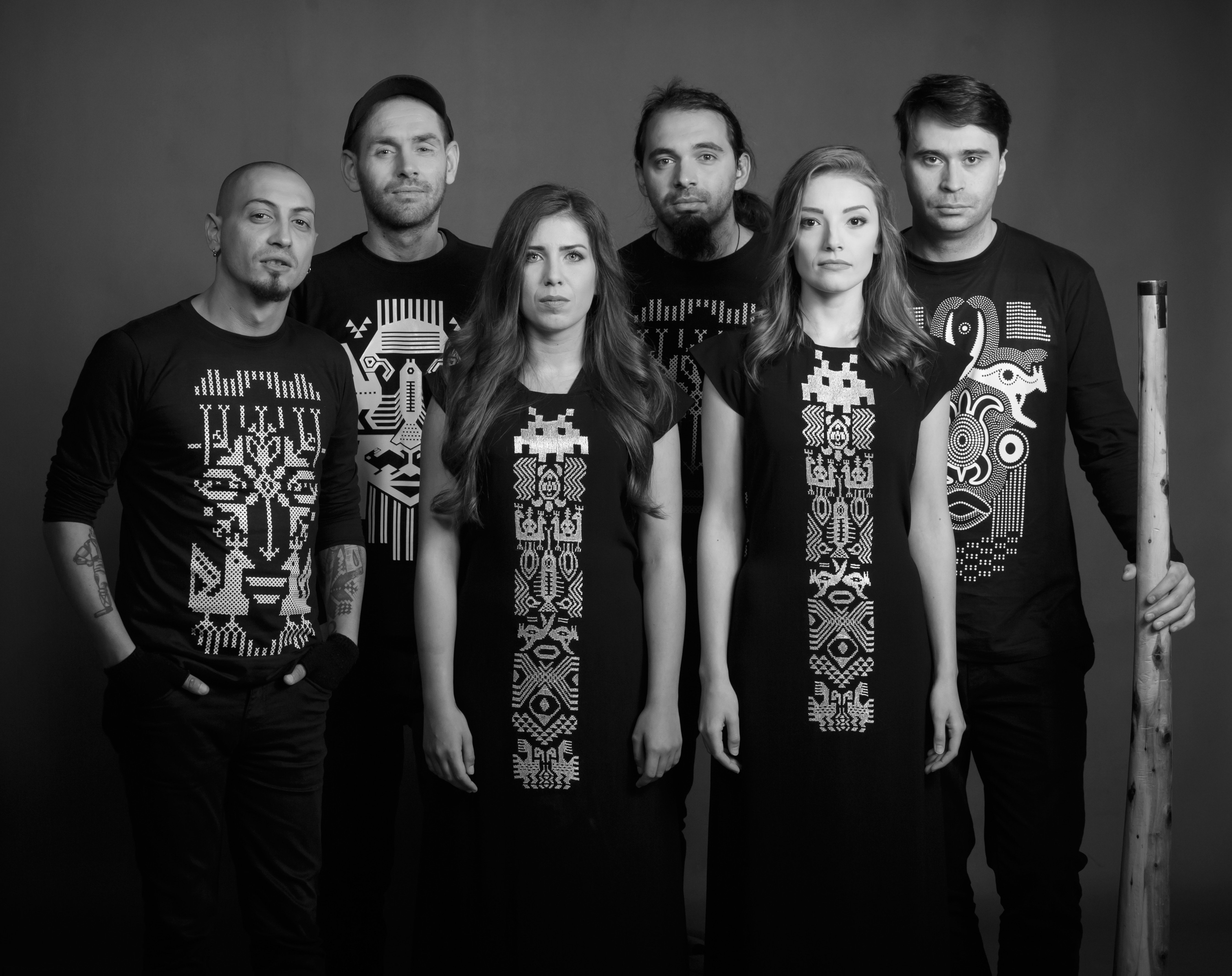 On November 30 in Mixtape 5 the Bulgarian band "Oratnitsa" will present its third Alter Ethno studio album. Then, the band once again combines the Bulgarian folklore with modern electronic genres and adds a new palette of emotions, jazz, phones and influences and the world's tracks, dubstep and drum and current basin.
The other novel about the band, which brought a Bulgarian folklore to the clubs, is that Oratnitsa is official to Christian Georgiev (kaval, vocal, melodic, tamboura), George "Jorge" Marinov (dijeridou, gaida), Peter Bunny Yordanov and Ivan Popa, Gospodinov (vocalist), joins Diana's folk voices (a singer in the "Thrace" folk ensemble and "The mystery of the Bulgarian voices") and Asya (a singer of "Cosmic Voices").
Soon before the concert, "Oratnitsa" tells what is behind the other of a Bulgarian folklore, which they create as a product of the time in which we live.
Folklore is a basic element of your music. What is it about you and how do you explain the increasing interest of younger people in folklore and return to the roots?
Asya: Folklore is a fundamental element in my life since the small one. Since I have graduated "Nufi – Shiroka Luka" and the Music Academy in Plovdiv, I accept this music, not just as a profession but also as a profession! It is very pleasing to see how more and more young people start to love her and be interested in it. Bulgarian folklore is in our past and roots, and young people are in our future. I'm happy that both things can go hand in hand today!
Popa: I do not think it's back to the roots, but rather a constant development! Folk folk is a living organism that does not prevent development and enrichment, which is also a way of life. That's for me!
Christian: I do not find this new trend. Many Bulgarian know themselves as folklore. It looks at the thinking, customs, the features, if you do, complications of the Bulgarian. It can be an icon and cartoon, and that's its genius. But above all the emotion that creates a folk song. The most important question is how we find a folklore, how we consider ourselves. I believe that our music is giving this issue first.
On November 30 at Mixtape you will present your third studio album, from the name Alter Ethno. Does the name of the album suggest any changes to your music?
Asya: Our new album has interacted equally with ethno and vice versa, which also suggests by the name. Here our supporters can hear a number of different elements that were collected in one. In "Alter Ethno" music "Oratnitsa" is a collaboration of modern spectacular rhythm and jazz elements that are intertwined with African, Oriental and Australian sounds! Of course, it's definitely back to everything – namely our beautiful Bulgarian folklore!
Pop: This album is very different from previous 2 and even its name suggests an alternative in our previous album.
Christian: We all have our Alter Ego. Ego means Me – my essence, I am. Our essence is related to folklore – our Ego and Ethno. Here we present our Alter Ethno – the other I have of folk music. That sounds pretty abstract … Our music has filled us with lots of new things we've learned over the last two years, different.
Where are you getting inspiration for your creativity?
Popa: Of course, from the music!
Christian: Of everything that is printed around us, by our followers – everyone who supports us and our friends, from those who do not approve and criticize us – everything is inspirational.
Your last attendance on the club stage is your European tour from December 2017. How last year has been a reflection of your joint work and relationship as a form?
Asya: The last year was very fertile and exciting to all of us. We have been invited to take part in an exhibition about the opening of the Bulgarian Vice President of the National Theater "Ivan Vazov" on January 11, 1818, and then an invitation and closure date on 16.05.18. The next major project where we were taking part along with the incredible Georgi Stresov, was the World Rhythm Gymnastics Championship in Sofia. For us it was a wonderful step and an unforgettable emotion! At the end of the summer, we began to work more expensive on our third album and we look forward to the first performance on November 30, 1818. All of these experiences help us get closer and get to know our Together better and this is one of the best ones- the important things for a good team working!
Popa: We have not put the best to create and enrich. We took part in a number of challenges, which the team made a great deal with each other and we looked more at work. We upgraded a lot and we could say that the machine has already fallen!
Christian: Each group goes through different stages of development – peripheries, great moments, scandals. One group is similar to a family. As long as everyone feels he is developing himself and being shown to contribute to the general work of the team, then the group works. I believe that this cohesion grows in us, especially when we go to the creative process – it is invaluable.
We know about your relationship with dubstep, trap, drum and bass, as well as exotic instruments such as dijeridou. What would the audience expect from your new album?
Popa: New Concept Concept!
Christian: We have a relationship with experimental alternative music. I like Pink Floyd, jazz of 60s, African flu of 70s, and recently I was very kindly with analogous analog synthesizers of the same period and later. My favorites are also modern electronic music and no modern hip-hop. Yes. the audience can expect everything. 🙂
You have imagined your music abroad once and again. How do you mix the mix of folklore and modern methods outside of Bulgaria and do you find general differences between your Bulgarian and overseas audiences?
Assya: Our mix of folklore and modern rhythms are well accepted overseas. The people there look great at our music and this is visible in every concert outside the country. In Bulgaria, things are a bit different. Here are two understanding of folk music – one more traditional and one more modern and contemporary one. In one version people who like folklore have a new reading and a large part of an audience. They like us, support and stop singing with us in every concert. Naturally, there is also a traditional that has some "more conservative" understanding of music. We do not blame anyone because everyone has a choice. Personally, this makes me sad, because although I have studied folk and folklore singing in their traditional way, I'm not afraid to experiment and develop more modernly! I would like more people in Bulgaria to think of such a thing, but alas … However, I am happy after every concert, as I see how we play our mission and reaching more and more people!
Popa: Only big differences – I believe – no!
Christian: The audience wants to be exciting, crying, distracting, sweating, toxic – everywhere. The Germans are still on the right hour and scream Marie Marieco without knowing what he means. Bulgarians do not listen to folk music and come to the dance. Everything is synonymous with vibration, to feel, no matter where the concert goes.
Source link