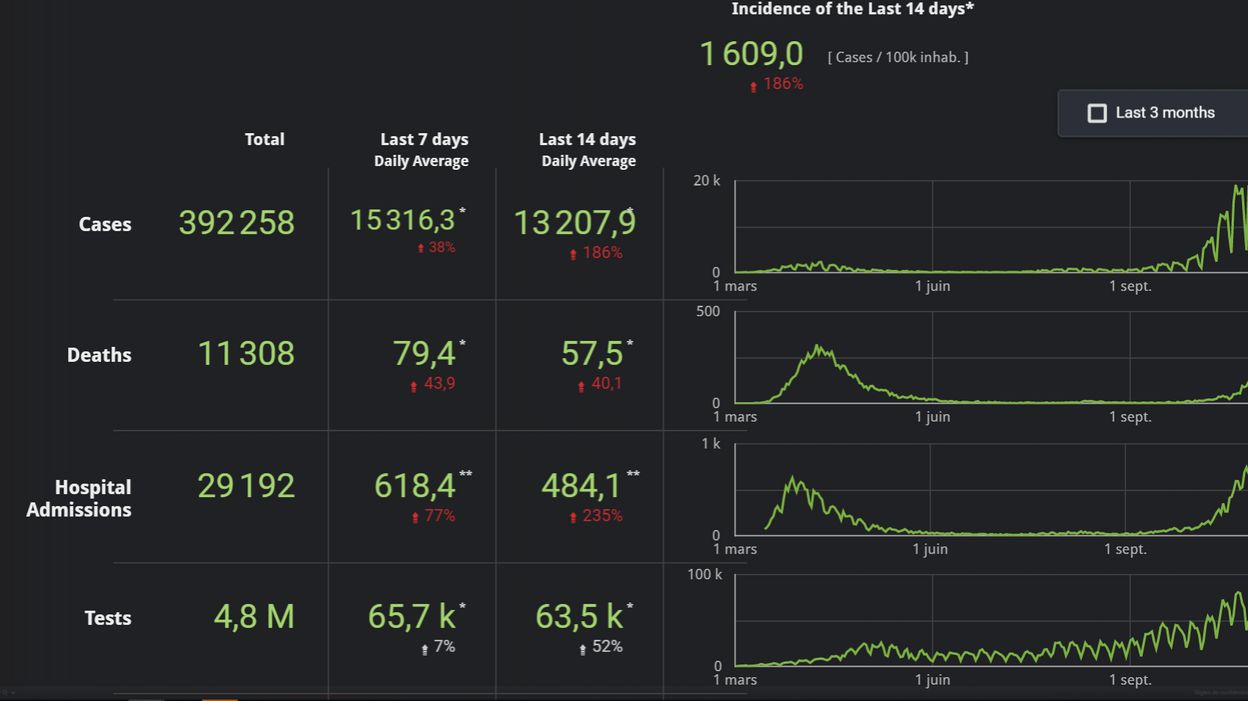 Should this be considered an encouraging sign? While the number of deaths associated with Covid-19 in Belgium is exploding, the number of hospital admissions due to the virus may be restraining its staggering growth. According to the Sciensano data update, the number of new admissions was recorded on Thursday 673, which is still higher than the peak of the first wave, but just below the 743 patients were hospitalized the day before.
This is not the first time that this figure has fallen overnight, but these reductions are usually associated with weekend restrictions, but for several weeks, the number of hospitals continued to increase throughout. throughout the week.
As a result, average receipts calculated over a week are still up sharply compared to the previous week, but estimated under 80% but had been consistently above 85% for several days.
We note that the number of people cured is stable 474 output from hospital, which means that the total number of people in hospital for covid-19 increases slightly less than on certain days: + 4%, to reach 6187. On the other hand, the intensive care occupation continues to rise strongly (+ 9%) 1057 beds and approaching the peak of 1285 the first wave.
It is too early to draw any conclusions, especially as this may be related to practical constraints, with Walloon hospitals that are starting to become saturated, residents of homes who are again hesitant to go to hospital, or patients who we encourage people to look after themselves at home. But the trend is to watch them carefully.
The number of deaths is exploding
Because the death curve, which we know is lagging behind by a few weeks, is exploding. We recorded again 138 new deaths in 24 hours, after 132 the previous day, and 139 the day before. Thus the average number of deaths calculated on the combined figures, between October 20 and 26, shows a huge increase with 79.4 daily deaths, at 35.5 the previous day, ie an increase of 124%. This means that the number of deaths is now doubling in just 6 days.
Even if the number of new contaminants is more difficult to evaluate, due to the delay in test results, and the new strategy of no longer detecting asymptomatic, a new "record" of 23,921 detected cases in 24 hours should be identified .
So Belgium has recorded on average 15,316 new cases of covid-19 between October 20 and 26 inclusive, representing a 38% increase over the previous accounting period. But beware: the figures for both periods are based on two different testing strategies, warns Sciensano. "This gives the impression of seeing a slowdown in the rate of progress of new cases. Yet this is not the case".
The test positivity rate, ie the proportion of positive people out of all those tested, has now reached 25.1% nationwide. It is also influenced by this new strategy.