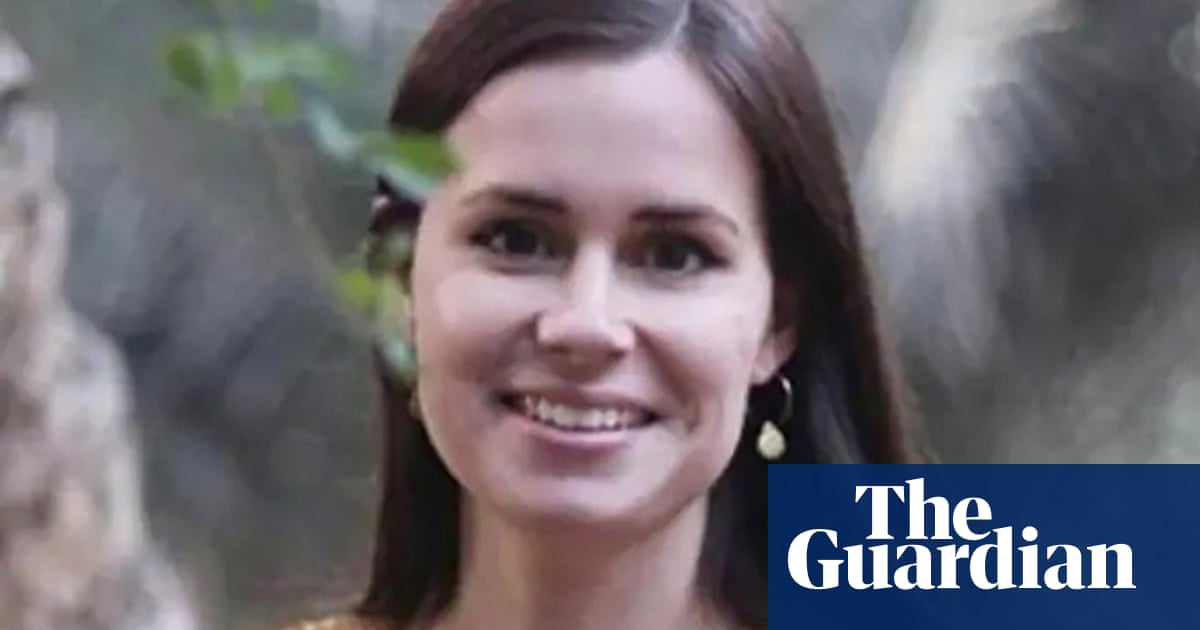 The detained British-Australian academic, Kylie Moore-Gilbert, has been moved back to Tehran prison in Evin, sources with information about her case have confirmed to the Guardian.
Moore-Gilbert is understood to be back in secret ward 2A Tehran's largest prison, where he spent much of the last two years under the control of the Iranian Revolutionary Guards.
A Cambridge-educated scholar from the Middle East, Moore-Gilbert was convicted of a secret trial and sentenced to 10 years for espionage after being arrested in September 2018 in Tehran, where he had attended a conference.
She was suddenly evacuated from Qarchak women's prison last Saturday, and for days her location was unknown to family and friends.
Other political prisoners have been moved back to 2A as a prelude to their release, sources have told the Guardian, but there is no solid evidence that this is the case with Moore-Gilbert.
His move could be linked to conditions at Qarchak prison or other concerns about her detention, sources said.
Last week Moore-Gilbert met with the head of the Iranian Prison Institute, Mohammad Mehdi Haj-Mohammadi, and the secretary of the Iranian High Human Rights Council, Ali Bagheri-Kani, and issues were raised about her incarceration.
After the meeting, reported by the official news agency of the Iranian judiciary, Mizan, Haj Mohammadi told prison staff that they should take action to repair deficiencies in Qarchak.
"We understand that a prisoner is a criminal before entering prison, but upon entering the prison we consider them to be a needy, capable person who deserves correction and assistance."
Isolated in the desert outside Tehran, Qarchak is widely regarded as the worst women's prison in Iran, and is known as a site of prejudicial killings, torture and other rights violations.
But Moore-Gilbert was in good shape in the days before she was evacuated from her ward in Qarchak, according to activists, including one who shared a cell with her last week.
Nasrin Sotoudeh, an Iranian human rights lawyer and political prisoner, was a close friend of Moore-Gilbert when they shared a cell in Evin. Last week Sotoudeh was moved to Qarchak where he was reunited with Moore-Gilbert, Sotoudeh's husband, Reza Khandan, told the Guardian on Thursday.
They shared a cell together for about five days, he said. Sotoudeh couldn't say much on their monitored calls, but told him: "She was in a good and comfortable condition in that ward compared to the other wards of Qarchak and Evin prison she had previously been. But unfortunately she only spent a few days in that ward … and then moved.
"They spoke in English," said Khandan. "[Kylie] was in good shape in those last days and had someone around to talk to. "
The eyewitness account corroborates reports from the Human Rights Activists News Agency that Moore-Gilbert was evacuated on Saturday with all of his belongings.
Iranian activists including Khandan have spoken to contacts inside the public wards of Evin prison, who say Moore-Gilbert has not appeared there.
He said that if Moore-Gilbert was in ward 2A, under the control of the Iranian Revolutionary Guard, it would have no contact with the outside world.
"Prisoners are either in one person cell or two in one cell, and have no phone," said Khandan. "Prisoners in this ward do not have the freedom they have in other wards. It has very difficult limitations. "
No evidence of Moore-Gilbert's alleged crimes was ever made public. She has denied the allegations against her, and the Australian government dismisses them as unfounded and politically motivated.
Late Friday, a Dfat spokeswoman told the Guardian that Australia's ambassador in Tehran, Lyndall Sachs, had been informed that Moore-Gilbert had been moved to Evin prison.
"Our last ambassador visited Dr Moore-Gilbert at Qarchak prison on 19 October. The ambassador has asked for regular access to Dr Moore-Gilbert to remain in Evin prison. "
Free Kylie Moore-Gilbert, a group of friends, colleagues and supporters of the incarcerated academic, said: "After six stressful days, we are pleased that the Australian government has finally been able to locate our friend Kylie Moore- Gilbert in Evin prison. But make no mistake: this is not a victory, nor does it imply that progress is being made in Kylie's case. "
The group said the Australian government should admit it had failed Moore-Gilbert.
"Not only did they lose an Australian citizen in the Iranian prison system for the second time in three months, but 778 days after her arrest, Kylie is back in square one in the prison where she was originally held. Australia has not made any progress in Kylie's case in more than two years, despite claiming that their strategy is working. If silent diplomacy worked, Kylie would not be treated worse than any other foreign citizen held in Iran.
"The Iranian regime is running circles around the Australian government and this case is shaky."
Sotoudeh, a lawyer of international repute, was sentenced last year to 38 years in prison and 148 lashes. Khandan said she suffered from a heart condition and hoped that she would be granted conditional consent to seek hospital treatment.
Source link