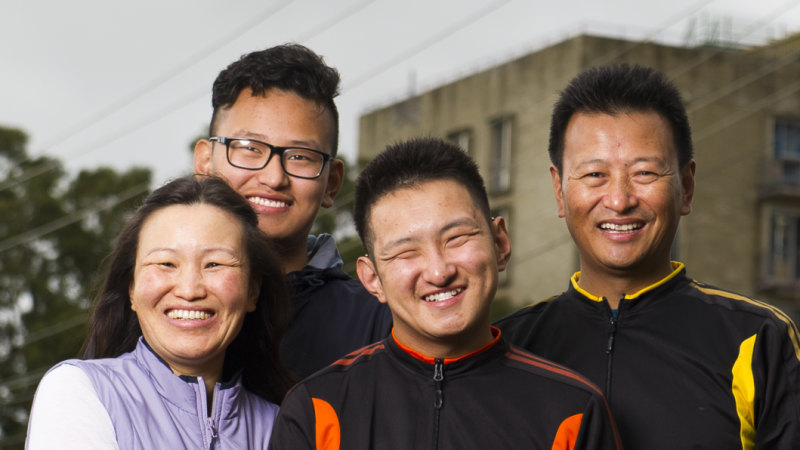 [ad_1]
Kinley's mother, Jangchu Pelden, said she had received an email on Friday, which she had not seen until late that night.
At first she thought she was fake and was waiting for confirmation from the family's migration agent, who received it on Saturday morning.
"We couldn't sleep, we were so restless," said Ms Pelden.
"I still think I am in a dream."
He said the family could relax after a month after fighting the possibility of being deported.
"So far we've been living in so much stress," he said.
"We've been keeping our lives and our dreams firm."
Mrs Pelden described her family as the most fortunate in the world for the chance to live in Australia.
"As with any parents, we wanted our boys to grow up in the best environment," he said.
"It is our privilege to live in this great land."
He thanked the minister, the unions that received the case, their workplaces and most importantly the thousands of Australians who supported their case.
"We know that this would not have been possible without their support," he said.
"People who didn't know us at all, they've been with us through this stress."
Branch secretary United Voice ACT Lyndal Ryan welcomed the minister's decision and congratulated the courage and courage of the family in pursuing the matter.
Loading
"It should not take so much a struggle for an active family to fight the terrible discrimination shown towards Kinley about her hearing impairment," said Ms Ryan.
"The community support for Kinley and his family shows how Australia is better people than how we are represented in our current political environment."
The health requirement assesses whether a person's condition is likely to result in "significant costs to the Australian community or endangering access by Australian citizens and permanent residents to services that are rare".
Because of this, the family was facing deportation back to Bhutan.
The family moved from Bhutan to Australia in 2012 when Kinley's mother, Jangchu, 18, received a scholarship to study childcare.
In late 2014, the family moved to Queanbeyan for work and for the peaceful location of the town. Kinley's parents, Jangchu and Tshering, were nurses in Bhutan. Kinley's father now works two jobs, minimal care and as a cleaner.

Kinley, who uses sign language to communicate, and her brother Tenzin, 17, have been attending Queanbeyan High School.
His family was concerned that Kinley would find her difficult to communicate if they had been deported to Bhutan as he used Australian Sign Language.
Mr Coleman's office was contacted for comments.
Elliot Williams is a reporter for The Canberra Times
Most people look at them nationally
Loading
[ad_2]
Source link