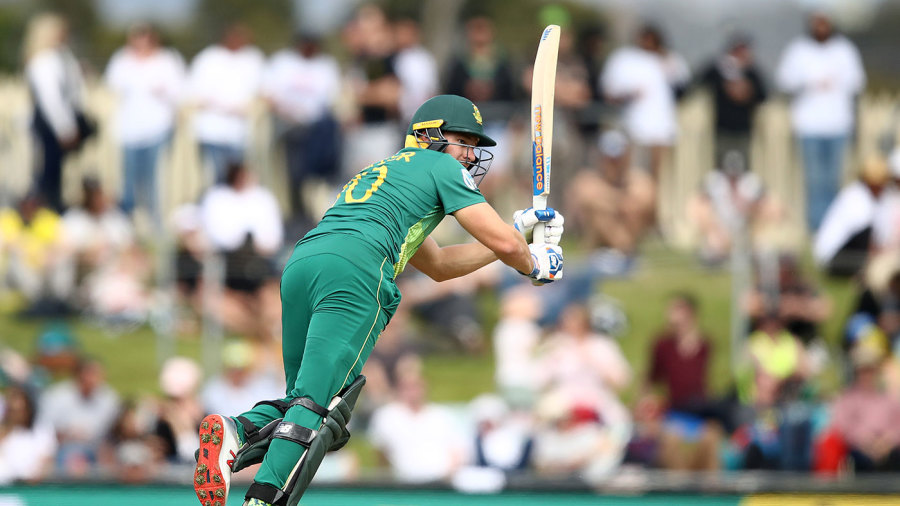 [ad_1]
South Africa 5 am 320 (Miller 139, du Plessis 125) v Australia
South Africa's captain, Faf du Plessis, joined the powerful David Miller for the highest partnership in each of the ODIs between their country and Australia to put the home side badly 321 for a win to win the third series -the game in Bellerive Oval in Hobart.
After losing three early conversations after being sent by Aaron Finch, two Plessis and Miller provided an exemplar exhibition of how to build a leading position of moderate beginnings, well established through constant accumulation before fragile acceleration. the final covers. Their stand of 252 exceeded a union of 222 between Steve Waugh and Michael Bevan, in Docklands in 2000, as the biggest ever stand in Australia v ODIs South Africa.
He collected both momentum patterns but offered contrasting styles and optional scoring areas to put any headaches to the powder in Australia. The closure moments of the partnership were almost free, with 51 runs coming from the final 15 balls that were Plessis and Miller with each other before the pupil was dismissed.
After starting firmly with the new ball, all bowlers were faced with varying degrees of punishment. The final for Mitchell Starc and Pat Cummins finalized for 20, and two Marcus Stoinis wikets came at a cost of 10 running beyond. All of this meant that Finch's side would have to demand a level of quality batting that they have not been able to reach recently since the bans issued on Steven Smith and David Warner, except for the Greatest Century Test in Dubai by the Usman Khawaja injured.
In pursuing their drought success in Adelaide on Friday, Australia said that only XI was named, but Finch said they would dredge their batting order by moving Chris Lynn up. South Africa was also unchanged, keeping the allrounder Dwaine Pretorius in Number 7.
On a good, cold afternoon, there was some early support in the field for Australian football with the new ball, something that Starc took advantage of perfectly with a supply extending off enough to go outside Quinton bat of Kock. In keeping an initial clamp on the South Africa run rate, Australia was subsequently benefited from a pair of leg destinations to Alex Carey's gloves.
The first, by Reeza Hendricks, meant he was dismissed by Stoinis for the second time in so much naming, and the second by Aiden Markram, after he pulled six, gave a second wip to Starc from so many periods. Left uncertain from 3 to 55 in the 16th century, Plessis and Miller needed to be rebuilt black, something they did with the help of a pitch started to settle down – except for one Starc supply that was in Leaving up in South Africa captain gloves.
Gradually, Black Plessis and Miller raised their momentum, with the help of a narrow run-off against Glenn Maxwell's edge. First, Black Plessis tried to force Maxwell by the side away at 29, and Carey dropped the thin edge that was the result of her – rather unusual at her usual mistress. Then Miller was placed on the gap and was given by Aleem Dar, only for Du Plessis to request a possible 15 minute resolution review of the available 15 seconds. Ball tracking showed that the ball hit in line with each other but slowly flashed rapidly over the stum, meaning it was recreated at 41 for Miller, and more than a bit from Australia faces.
These fortunate moments allowed the stand to grow to scary dimensions to Australia, as all bats can clear the border. Estimates of the South Africa register have been revised more than once, with the equity of 3.5 men after the age of 18 to well beyond the six marks. Of all, 130 runs were created from the last 10 lasts, 75 lasts.
The first to reach his century was Du Plessis with a legshell and a composite celebration. Miller followed him with a higher cut to the third man's border the next one over and a more amazing emotional display, authenticating his promotion to No. 5 in the order. There were a few pet shots later and the visitors had raised their highest ever ODI score against Australia on their behalf.
[ad_2]
Source link